The Breaking Point
EPISODE: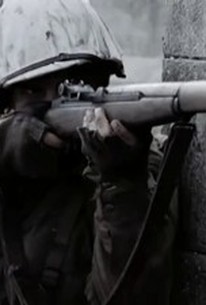 Episode Info
The seventh installment of HBO's fact-based WWII miniseries Band of Brothers depicts Easy Company pushing back the Germans after General Patton opened up Bastogne. The company suffers heavy casualties in their efforts to take the German-occupied town of Foy, Belgium. This episode, the most graphically violent of the series so far, is narrated by Carwood Lipton (Donnie Wahlberg), the company's tough and resourceful first sergeant. Lipton is distressed, not only by the carnage he's seen, but by the incompetence of Easy's new CO, Lieutenant Dike (Peter O'Meara), who always seems to disappear at the crucial moment. Heavy shelling in the woods outside Foy takes its toll, and Lieutenant Compton (Neal McDonough) reaches "the breaking point" when he sees two of his men, exceptional soldiers, lying together in a heap, seriously wounded. Just after the company gets hit, taking heavy casualties, Dike disappears again. But Lipton, determined to keep morale up, continues to defend Dike to his men. After overhearing company mimic George Luz (Rick Gomez) joking with some other men, Lipton tells him "First, great impression of Dike," then adds, "second, don't do it anymore." But on the eve of their assault on Foy, Lipton is so concerned about Dike's incompetence that he speaks privately to Captain Winters (Damian Lewis). Winters has his own reservations about Dike, but with the company short of qualified officers, he can't find a way to replace him. During the hazardous assault, Winters watches helplessly from the woods above the town as Dike freezes up and the casualties mount.
The Breaking Point Photos
Discussion Forum
Discuss Band of Brothers on our TV talk forum!