Better Things: Season 4
(2020)
Where to watch
Buy from $1.99
Subscription
Buy from $1.99
Buy from $1.99
You might also like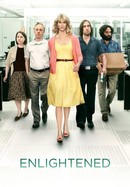 What We Do in the Shadows
Rate And Review
Better Things: Season 4 Videos
Better Things: Season 4 Photos
News & Interviews for Better Things: Season 4
Audience Reviews for Better Things: Season 4
To be fair I only got part of the way through episode 4, so maybe it got better, but I doubt it. I finally had to give up on "Better Things" when the only daughter that I wasn't pretty disgusted with started to get pretty disgusting. I started watching because of the reviews about how "real" this sitcom is. Long-suffering lead, inconsiderate & sometimes downright mean-spirited supporting characters, bizarre & usually unpleasant storylines. If this is "real" I'll stick with fantasy. I found myself increasingly wondering- "Better than what?"

Fun, genuine, and felt real. Whole show is wonderful.

Inca foarte bun dar pe ici pe colo prea imprastiat

One of the best things about this show are its realistic characters. The male representation written by Adlon is, by far, the most accurate portrayal of men I've ever seen.

Finally, a single mom who is relatable in every sense!

This season has lost me after I've been an avid watcher. The daughters are written meaner with each season...credit to the actors who portray Sam's daughters because they're believably mean...discredit to the writers for making me dislike them to the point I don't want to watch anymore. Switch the focus back to the adults and leave the kids in the background instead of making them smarter than the adults.

This show used to be a lot more enjoyable and original in the first couple seasons. Now it just turned into an ongoing rant by a narcissistic bitter woman. The acting is great though. Kudos to the young actresses playing the daughters. They are great at portraying entitled arrogant annoying teenagers.

Pamela Adlon has created one of the best, most heartfelt, touching and addictive shows of all times. Her delicacy playing this role, and the way each character has been cast to perfection makes Better Things an experience you don't want to miss. I really hope this show goes on for many many years. Sam Fox is an inspiration.

Great characters and acting.