Buffy the Vampire Slayer: Season 1
(1997)
SEASON: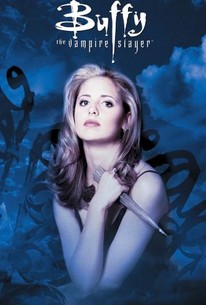 Rate And Review
Buffy the Vampire Slayer: Season 1 Photos
Tv Season Info
Series 1 of the sci-fi series where a cheerleader is chosen to battle the forces of evil as she weathers the storms of young adulthood.
News & Interviews for Buffy the Vampire Slayer: Season 1
Audience Reviews for Buffy the Vampire Slayer: Season 1
Might seem cringey at first, but give it some time, it grows on you. Overall an epic series, that I loved.

Whilst it's undeniable that Buffy the Vampire Slayer formed the blueprint for many current vampire shows, it uses a barrage of fight scenes to distract from its one dimensional characters. The protagonist is constantly dealing out a series of quippy one liners, leaving me wanting for more authentic moments. That being said, it deserves respect for its place in vampire tv history.

A solid first season of 'Buffy the Vampire Slayer'. I can't say I'm overly enjoying it, yet here I am after watching S1 so I must've liked it enough; admittedly I watched practically an episode a day, no way I could sit through a binge-watch to be honest. Sarah Michelle Gellar is probably the reason I stuck with it - she's excellent as Buffy, definitely producing the best acting. Anthony Head (Giles) and Alyson Hannigan (Willow) are decent, too. The special effects haven't aged incredibly, but I've certainly seen worse from around this era of television; looking at you, 'Doctor Who'. The overall acting is alright, while the writing is decent. As of now, I'm still at the meh stage with this show. Hopefully my interest perks up from season two!

Really great def to watch

An okay start to a great show, but the show hadn't found its footing yet

Sarah Michelle Gellar starring in Buffy the Vampire Slayer is the best possible casting choice. Gellar's chemistry with fellow castmates Anthony Head, Nicholas Brendon, and Alyson Hannigan allowed this teen drama to thrive. Season 1 is quirky, fun, and dramatically 90s. While this is not the best season of the series, its nostalgic elements keep this season afloat and allow for an enjoyable experience. While this season may be a bit hard to watch for the casual viewer, the payoff in the season finale and the episodes in the following season is worth sticking around.

It was a good introduction and had a lot of great stuff but this season is a bit overrated in my mind, the ending definitely hypes up the score but you can fully appreciate it until the next season.

A good start to one of THE BEST series's out there

A great first season with some of Buffy's best episodes. Even when it's cheesy, Buffy season 1 is very entertaining.

Still to date my favorite show of all time!