Something Wicca This Way Comes
EPISODE: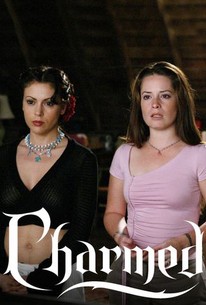 Episode Info
Reunited in their ancestral San Francisco mansion, the Halliwell sisters -- Prue (Shannen Doherty), Piper (Holly Marie Combs), and Phoebe (Alyssa Milano) -- are apprised of their family's secret: all three of them are witches, endowed with remarkable individual powers. This discovery comes about when the girls come across the "Book of Shadows," an ancient tome chock-full of incantations. Repeating the words in the book, Phoebe discovers her power to see into the future, Prue is made aware of her telekinetic skills, and Piper comes to realize that she has the ability to make time stand still. Before this debut episode of Charmed has run its course, the trio has also come to terms with their destiny: to use their powers to fight on the side of good against evil -- evil in this case personified by an extremely unpleasant warlock. (This was actually the series' second pilot episode: the first, featuring different actresses as two of the three Halliwell sisters, never aired.)
Discussion Forum
Discuss Charmed on our TV talk forum!