Continuum: Season 3
(2014)
SEASON: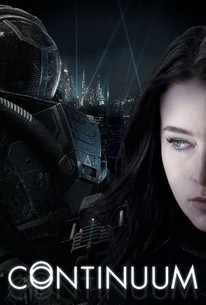 Continuum: Season 3 Photos
Tv Season Info
Kiera Cameron (Rachel Nichols), a detective from the dystopian corporate-dominated world of 2077, but who finds herself unexpectedly dragged to modern-day Vancouver ends up going back in time by exactly one week in Series 3 of this Canadian crime drama. She travels to the past after reluctantly agreeing to work with the freelancers/guardians of history to fix the damage done by Alec Sadler (Erik Knudsen) when he betrayed Kiera and time-traveled to try to prevent the execution of his girlfriend Emily aka Maya (Magda Apanowicz). This act causes disorder and, for a while, there are two Kieras and two Alecs—that is, until one of the Kieras is murdered. While working to solve that mystery, Kiera is also faced with choosing between Old Alec and Young Alec, a decision that becomes more complicated after Young Alec inherits the multibillion dollar tech corporation Piron. Meanwhile, Kiera and Det. Carlos Fonnegra (Victor Webster) investigate Liber8 for stealing safety deposit boxes; however, her relationship with the anarchist group becomes less adversarial when they team up to fight a common threat.
News & Interviews for Continuum: Season 3
Audience Reviews for Continuum: Season 3
Worlds collide in the action-packed third season of Continuum. The series gets more complex and cerebral this season as the time-travel and sci-fi themes become more prominent and thought-provoking. Picking up where the previous season's finale ended, Alec's time jump collapses the time continuum, forcing Kiera to partner up with the Freelancers in order to go after him and correct the timeline by determining which Alec (Prime or Alternate) caused the disruption and eliminate him. The tone of the show gets incredibly dark as the Kiera character is hardened; having been betrayed by Alec and forced to live a lie impersonating the Kiera of the new timeline (who has mysteriously been killed). Alec is also turned dark as he inherits control of the Piron corporation and is corrupted by power. But the show still delivers plenty of action and starts to answer some of the larger questions of the series. Additionally, the writing and directing of the episodes are especially good, and do an excellent job at building tension and suspense. Remarkably daring, Season 3 of Continuum is full of thrills and promises exciting things to come.
Discussion Forum
Discuss Continuum on our TV talk forum!