SEASON: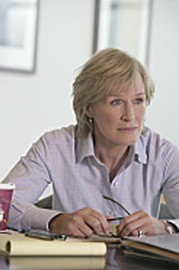 Episodes
Air date: Jul 13, 2011
There's Only One Way To Try A Case: As Patty Hewes prepares to sue a multinational drug maker, Ellen Parsons asks school classmate Chris Sanchez to help expose a private security firm's illegal actions in Afghanistan.More
Air date: Jul 20, 2011
I've Done Way Too Much For This Girl: After Chris Sanchez's agreement to testify convinces her boss to pursue a lawsuit against High Star Security, Ellen discovers that they caved under pressure and reneged on the deal.More
Air date: Jul 27, 2011
I'd Prefer My Old Office: As Ellen returns to the Hewes & Associates office to pursue her lawsuit against Howard Erickson, Patty's search for her missing son leads to Boston.More
Air date: Aug 3, 2011
Next One's On Me, Blondie: While being held hostage in Afghanistan, Chris sends a local operative to New York with a message for Ellen.More
Air date: Aug 10, 2011
We'll Just Have To Find Another Way To Cut The Balls Off This Thing: As a CIA operative looks to stop Ellen's depositions, the High Star CEO turns to a Defense Department contact to stop the release of some files.More
Air date: Aug 17, 2011
Add That Little Hopper To Your Stew: As she fights to see the imprisoned Nasim Marwat, Ellen closes in on a CIA cover up of an illegal intelligence mission in Afghanistan that could bring down High Star CEO Howard Erickson.More
Air date: Aug 24, 2011
I'm Worried About My Dog: As Howard Erickson looks to bury the truth about a botched mission in Afghanistan, Ellen and Patty seek a source inside the CIA who could help in their lawsuit against him and his company.More
Air date: Aug 31, 2011
The War Will Go On Forever: As she sends a reporter to Afghanistan to find Chris, Ellen teams up with Patty to depose Howard Erickson.More
Air date: Sep 7, 2011
There's A Whole Slew Of Ladies With Bad Things To Say About The Taliban: Jerry Boorman's offer to sell out Howard Erickson to protect the Afghan boy he's keeping leaves Ellen and Patty facing an important decision.More
Air date: Sep 14, 2011
Failure Is Lonely: As Ellen moves to settle her lawsuit against High Star in exchange for Chris Sanchez's safe return, her plans are upended by Patty's surprise legal action against Howard Erickson.More
Tv Season Info
"Damages" moved from FX to DirecTV for its fourth season, in which Ellen (Rose Byrne), now working at her mentor's firm, recruits Patty (Glenn Close) to help her investigate High Star, a private security firm working for the U.S. military in Afghanistan and headed up by the formidable Howard T. Erickson (John Goodman). While building their case, they tangle with a ruthless mercenary (Dylan Baker), who's determined to keep the pair away from a blood trail that could lead right back to Erickson.
News & Interviews for Damages: Season 4
Friend Ratings for Damages: Season 4
No Friends? Inconceivable! Log in to see what your friends have to say.
Login
Audience Reviews for Damages: Season 4
There are no featured audience reviews yet. Click the link below to see what others say about Damages: Season 4!
Discussion Forum
Discuss Damages on our TV talk forum!