Dead of Summer: Season 1
(2016)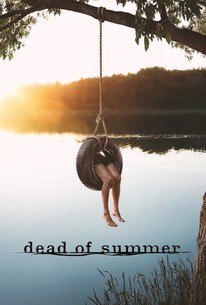 Rate And Review
Dead of Summer: Season 1 Photos
News & Interviews for Dead of Summer: Season 1
Audience Reviews for Dead of Summer: Season 1
Dead of summer is a fun little series with surprisingly compelling characters and a decent body count. The supernatural/slasher/horror concept is quite ambitious, but it falls a little flat due to inconsistent & incomprehensible mythology. The 80's nostalgia is incredibly fun and there are genuine dramatic highs for the characters. But even still, the clunky writing taints the experience a little. The show definitely gets points for aiming really high, even if it doesn't quite hit. The 10 hours of Dead of summer won't particularly terrify or exhilarate you, but this is definitely not a waste of your summer. A must see for Supernatural enthusiasts.

Tame but watchable lightweight horror series is what you expect from the old ABC family network.

Dead of Summer starts off as your typical teen horror series that we've seen a million times however the more it went the more it dived deep into it's characters who all end up being a lot more compelling than you would think and the show honestly got pretty creepy in many scenes but by far the biggest thing that standouts is a twist near the end of the season that not only changes everything but makes the show so much more worthwhile and unpredictable and makes it stand out as something that definitely was rarely seen by many and in many cases i think is the first great show Freeform has had to offer that hopefully comes back for a Season 2 to dive deeper into character's past even though one half of the show is concluded it doesn't mean the whole half has to be. Grade for the Season: A-

There are a lot worse things ti watch. I recall a lot of bad 80's horror movies and although this not great it is not the worst I have seen. Yes the characters are bland and the script predictable and boring as well as clunky but with the blood and gore and a bit of cgi to cheer it up a bit it does give it a bit more appeal. Something to watch over a few drinks and share with a few friends even if its only to shred its cliches and shortfalls at least you will get something out of it. For a better choice watch Slasher its far more superior than this!

AWESOME! THEY SHOULD MAKE A SEASON 2!! YOU WOULD LOVE IT!

Totally stupid script. Not one thing new.

This is the show I look forward to all week. Love it and hope they are in for season 2!

It's silly and it's old school... but makes for enjoyable watching

This started out okay. The farther it goes in to the season though, it is just stupid. Spoiler***once the satanists come in I'm like, come on, this is ridiculous

I have been waiting for another good Supernatural series. Well developed characters and a classic story line. I won't miss an episode!