Reconnoitering the Rim
EPISODE: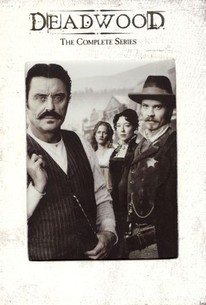 Episode Info
Al (Ian McShane) is upset when a new brothel, the Bella Union, opens up across the street. He goes over to meet the proprietor, Cy Tolliver (Powers Boothe), along with the woman who runs his whores, Joanie Stubbs (Kim Dickens), and the man who runs his gaming operation, Eddie Sawyer (Ricky Jay). Al expresses his concerns about the overlap, but Cy casually dismisses them, explaining that the more upscale Bella Union offers a "different atmosphere" from the Gem. Al, unsatisfied, tries to find out who betrayed him by arranging the sale. E.B. Farnum (William Sanderson), who owns the hotel, and brokered the sale for profit, is understandably worried about his continued health. Brom (Timothy Omundson) tells Bill (Keith Carradine) and Charlie (Dayton Callie) about how Al duped him. Bill explains that there's little he can do about it, and Charlie notes that there was a large stain on the floor of his hotel room when he checked in, noting of the fella who sold Brom the claim, "He may have checked out short a useful amount of blood." Charlie, planning to leave for Cheyenne, and worried about Bill, tries to arrange a dinner with Seth (Timothy Olyphant) and Sol (John Hawkes), while they continue negotiations to buy their plot from Al so that they can begin building their store. Brom refuses to accept his losses and leave town, despite Alma's (Molly Parker) concerns. He confronts Al directly, demanding his money back. Al, pleading ignorance, but worried that Brom will call in the Pinkertons, offers to refund Brom's money if Dan (W. Earl Brown) and Brom thoroughly "reconnoiter the rim" of his claim, and find no trace of gold. "Make it look like an accident," Al advises Dan before the two set out.
Reconnoitering the Rim Photos
Discussion Forum
Discuss Deadwood on our TV talk forum!