Death Has a Shadow
EPISODE: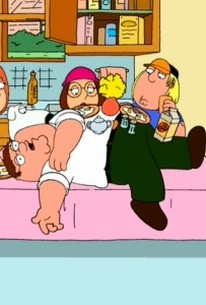 Episode Info
On this, the premiere episode, Stewie (voice of Seth MacFarlane) has turned an ordinary child's toy into a mind control device, and he declares war on Lois (voice of Alex Borstein) when she takes his "toy" away. Peter (MacFarlane) goes to a stag party. Lois makes him promise not to drink, but things don't work out that way. The next morning, the family finds him passed out on the breakfast table. Worse yet, that day he falls asleep on the assembly line at Happy-Go-Lucky Toys, and when some dangerously defective toys end up on the shelves as a result, he loses his job. "Daddy's still going to put food on the table," he tells his concerned children, "just not as much, so it might get a little competitive." Peter decides to hide his joblessness from Lois. "I hate lying to Lois," Peter confides to Brian (MacFarlane), the family dog, "It's just the best way to keep her from knowing the truth." Inspired by Brian's exhortation to "think of his family's welfare," Peter applies for welfare. The government accidentally sends the Griffins a check for 150,000 dollars each week. After living high on the hog for a while, Lois realizes something is up, prompting Peter to concoct a cockamamie scheme to give the money back to the government and prove his devotion to his wife. When the creators of Family Guy learned that the show would premiere after the Super Bowl, they added a relevant scene, and enlisted the voice talents of Pat Summerall. The title of the episode, "Death Has a Shadow," springs from a short-lived idea the writers had to title each episode in melodramatic, 1960s TV detective-show fashion. This idea was abandoned after a few shows when they realized they could never identify the episodes from the title.
Death Has a Shadow Photos
Discussion Forum
Discuss Family Guy on our TV talk forum!