Brian: Portrait of a Dog
EPISODE: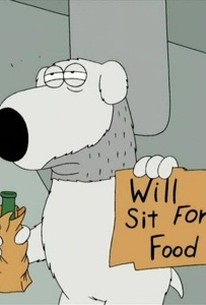 Episode Info
In the pre-credit sequence, the family watches a horrifying Eight is Enough reunion show, featuring the actual voice of Dick Van Patten. As the title of this episode indicates, it's modeled after one of those "social problem" TV movies that were prevalent in the 1980s. Quahog is suffering a heat wave, and the Griffins want to enter Brian (voice of Seth MacFarlane) in a dog show, hoping to win enough money to buy an air conditioner. Brian reluctantly agrees for the sake of the family. He does a great job on the obstacle course (running the whole route on his hind legs, stopping only for a quick smoke), but refuses to beg for a treat at the end. When Peter (MacFarlane) upbraids him for his disobedience, Brian disgustedly walks out on the whole thing. "I refused to demean myself by perpetuating the stereotype of the 'good dog'," Brian explains on the way home. The argument continues, until Brian has Peter stop the car so he can get out. The police bring him home after stopping him for breaking the leash law. There's a flashback to when Peter first found Brian, who was a lowly stray dog, eking out a living squeegeeing the windshields of passing motorists. Brian runs away again, and the Griffins make an ill-fated effort to replace him with a kitty. The dog runs into hard times. At one point, he gets kicked out of a fancy Italian restaurant, and runs into Lady and the Tramp in the back alley. Unaware that the Griffins are determined to bring him home, Brian loses control and attacks a passerby. The county is ready to put him to sleep until Peter comes to his rescue.
Brian: Portrait of a Dog Photos
Discussion Forum
Discuss Family Guy on our TV talk forum!