Peter, Peter, Caviar Eater
EPISODE: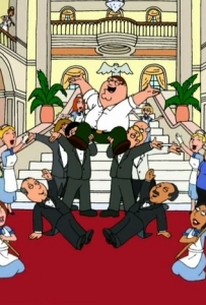 Episode Info
Lois' (voice of Alex Borstein) rich old Aunt Marguerite is planning a visit, which Peter (voice of Seth MacFarlane) dreads. But she drops dead at their front door. Marguerite was so rich that Robin Leach does the intro on her video will. Peter is thrilled to learn that despite her disapproval of their marriage (Peter was once their towel boy), she's left the Griffin family her lavish estate in Newport. Singing servants greet the family at the mansion ("We only live to kiss your ass!" opens the jaunty, +Annie-inspired number, which was nominated for an Emmy), and Peter lets Lois know that he's sold the house in Quahog. Newport is now their home. Peter's poor social skills alienate the new neighbors, so he asks Brian (MacFarlane) to teach him to be a gentleman. It's a tough job, but it's revealed in flashback that Brian got Marisa Tomei her Oscar, so he thinks he's up to the task. Unfortunately, Peter soon becomes the sort of snooty rich twit that Lois originally married Peter to escape. Lois wants to move back to Quahog, but the rest of the family isn't interested. "If I ever go back to Quahog," says Chris (voice of Seth Green), "it'll be just so I can poke poor people with a stick." This episode features an infamous parody of a commercial for diamonds, as well as the voice talent of Fairuza Balk.
Discussion Forum
Discuss Family Guy on our TV talk forum!