Hemingway: Season 1
(2021)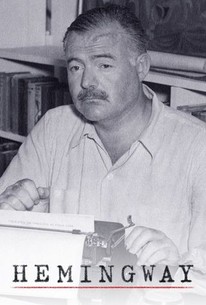 Where to watch
Buy from $4.99
Buy from $1.99
Buy from $6.99
Rate And Review
Episodes
Air date: Apr 5, 2021
Hemingway volunteers for the Red Cross during World War I; after moving to Paris, Hemingway finds success with his second novel, "A Farewell to Arms."
View Details
Air date: Apr 6, 2021
After achieving literary fame, Hemingway reports on the Spanish Civil War and begins a romance with Martha Gellhorn.
View Details
Air date: Apr 7, 2021
Hemingway tries to start a life with Mary Welsh, but he is beset with tragedies; Hemingway publishes "The Old Man and the Sea," but he is overcome by his declining mental condition.
View Details
Hemingway: Season 1 Photos
Audience Reviews for Hemingway: Season 1
I like Hemingway. One can say that The Sun Also Rises is one of those novels that I read as a teenager and it prompted me to pursue an education in the literary arts. But this documentary so filled with empty platitudes and then hyperbolic assertions ("Hemingway defied the traditions of modernism") that at best it seems sophomoric, at worst it seems like the kind of watered-down gruel that is created for wine-moms to enjoy on a Sunday evening.

Increíble documental, de seis horas, con un material fotográfico impresionante y grandes entrevistas. Muy buena historia, muy buen documental, muy buen "personaje".

If you're fascinated by Hemingway, the myths surrounding Hemingway, his love for love, and his turbulent experiences as a writer, you will love this documentary. It's real, emotional, and raw. I found myself weeping for reasons I didn't know. And, it's Ken Burns. Who doesn't love what Ken Burns gets his hands into?

Excellent. Ken Burns doesn't make a bad documentary.

I have seen every one of Ken Burn's documentaries, and this, like the others has high production values, keen insight, I am glad to see that he's partnering with Lynn Novick, too. Some of the footage is hard to watch, especially the bull fighting and the big game hunting scenes. I do highly recommend it. Then my husband and I watched the interview with two of the writers as well the two documentarians. My only question, which I'm asking myself this question a lot lately, is "When does the balance of the scales shift away from the artist and instead truly weigh in on the cost in lives, in environmental murder, in sadism and lies and casual cruelty? For all of its honesty - and the eye is unflinching - the documentary still comes up on the side of "art is more important" than virtually everything else. It's the default value in our country and I'm not sure it should be. People weigh in with stars in their eyes about the brilliance of Hemingway's writing and how it changed their lives, so, in a way he gets a pass. The myth of the tortured male artist lives on, blazing a path of death and destruction for the sake of a few pretty words.

Documentary does not mention Hemingway's work with the Russian precursor to KGB and, according to Humberto Fontova, Hemingway's delight at watching, with a drink in hand, the summary execution of Cubans at the hands of the Castro regime. Tell the whole truth Ken Burns.

4.3 stars for now. So much to process before leaving a proper review.

Usual PBS/Ken Burns whiny meandering, with the questionable presumption that there is all that much interest in the life of this pretentious literary gasbag. Lillian Ross did the job a lot better in the New Yorker in 1950.