House of Cards: Season 4
(2016)
SEASON: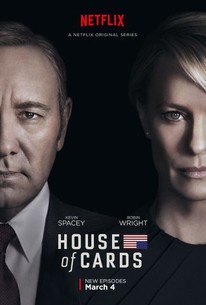 TOMATOMETER
AUDIENCE SCORE
Critic Consensus: House of Cards retains its binge-worthiness by ratcheting up the drama, and deepening Robin Wright's role even further.
House of Cards: Season 4 Videos
House of Cards: Season 4 Photos
Tv Season Info
Series 4 opens with Frank and Claire still at odds with each other. Claire's determination to be a political figure puts Frank's campaign and marriage in jeopardy. Meanwhile Frank battles for the Democratic Party nomination and seeks a suitable running mate. While the young attractive Conservative candidate Will Conway uses social media to increase his popularity. Lucas is let out of prison and will stop at nothing to expose the truth about President Underwood.
News & Interviews for House of Cards: Season 4
Audience Reviews for House of Cards: Season 4
½
The second-best season after the first, House of Cards returns to its true form, making up for an underwhelming second and third season.
An improvement but not a complete return to form, season 4 of House of Cards offers intrigue, increasing drama, and a growing sense of chaos that the Underwoods' seem to make their mark in. I was pleased to see more ruthlessness, more blind ambition, and more political jockeying that is born out of a sense of power-grabbing than it is anything political. Season 3 all but lost this, making Underwood seem more gruff than the manipulative bully that his character really is. With this season there's an increase focus on Claire, which is initially frustrating yet later manages to get the series back on track in that they start to work together. Their whole feud always felt clunky and poorly conceived. My main gripes with the show revolve around a lack of a real formidable adversary to Underwood. Conway just didn't do it for me, not a match talent wise nor charisma wise for Spacey. Shows like House of Cards, that have a subdued by notable liberal bent ,often have a hard time imagining a strong conservative antagonist—and House of Cards would do well to start. I also found some of the political storylines rather outlandish. The fixation on the hostage situation, as an example, is something that no president could realistically be a party to—it would only spurn more such occurrences. Underwood had so many master plans and brilliant maneuvers to land him where he is—now he needs to do something with it. The series feels like it's stalled in parts because there's nothing else Underwood is reaching for, and that's a problem. Still very entertaining, fantastic composition and cinematography, and excellent performances. A step back in the right direction. 4/5 Stars
After a slower third season which focuses mostly on the beginning of Frank Underwood's presidency, season four begins and brings back all of the illustrious wonders absent in the third season. Frank gets a new rival in the form of charismatic, and social media-savvy New York governor Tim Conway who is everything Frank is not; young, a father, and fiercely passionate about both his Presidential campaign and his wife Hannah (Their bathroom counter knows all about the latter). Frank is both in a fight for the Democratic nomination, and in a fight to salvage his tattered marriage to Claire who truly comes into her own form in this season. And in a real-world twist, a kidnapping on American soil by fanatical extremists brings everything to halt as we wait for the resolution of the season to come. Easily the best season of the show yet alongside Season 2. Anyone who has even casually glanced as Kevin Spacey's acting and liked what they've seen will love House of Cards despite hitting a few slow-points. But like Tom Yates says, don't go into it expecting anything.
Discussion Forum
Discuss House of Cards on our TV talk forum!