SEASON: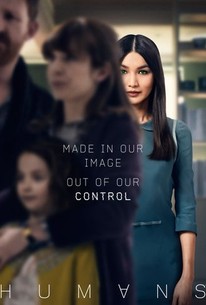 Rate And Review
Tv Season Info
A suburban family buys the latest tech gadget--a robot servant--in this remake of a Swedish series. In Season 1 of "HUMANS," when Joe (Tom Goodman-Hill) brings Anita -- later known as Mia (Gemma Chan) -- a robotic assistant known as a "Synth" into the family home, the repercussions change their lives forever. As Toby (Theo Stevenson), Sophie (Pixie Davies) and Joe become enamored with Anita, Mattie (Lucy Careless) and Laura (Katherine Parkinson) realize something is amiss. Meanwhile, Niska (Emily Berrington), a conscious synth, seeks help from her human brother Leo (Colin Morgan) after an incident places their unusual family in danger; and Pete (Neil Maskell), a police officer investigating Niska's actions, is shocked when his partner Karen (Ruth Bradley) reveals her secret past. Elsewhere, retired scientist George struggles to keep his aging synth Odi from being decommissioned; and Laura and Mattie assist Leo as he tries to uncover the truth behind his father's work.
News & Interviews for HUMANS: Season 1
Audience Reviews for HUMANS: Season 1
Everything in it is written quite well except the computer stuff (where one or another of the participants is shown reviewing fast moving memory dumps on their laptop) which is just so wrong as to be almost unwatchable. This is a shame as computing and technology is so fundamental to the plotting.

Starts slow, but then opens up quite interesting questions about humanity. Also, an interesting mix of teenage / child struggles, growing up, family matters, and later, identity. Each character is really rich and interestingly thought through.

The premise isn't exactly new but raises explores some interesting "what if" questions with a great cast and astonishing performances, especially from Gemma Chan.

Just enough truth to make it truly disturbing - and thoroughly entertaining. Gemma Chan nails it as the synth Mia.

The premise is absolutely awesome. The exicution felt like when my dad went through a divorce and desperately tried ro be "hip" again. I was really looking forward to this, but you psychiatric specialist looks like a koala, when he doesn't have to. Credibility. I look like shit, but I'm not aiming to convince people of something.

Its binge worthy. I actually didnt know they made more seasons till i looked it up. So im very excited to watch 2 and 3.

Incredibly well done, thought provoking, satirical, and intense! 'Humans' is engaging from a deep philosophical perspective, with characters created with careful attention who are able to really pull at the heartstrings. This is a rare TV show where each season gets better and better. Can't wait for more!

Great show with some short sighted inconsistencies/script stupidity. But still very enjoyable with a great setting and progression.

It's really good. Gripping, emotional, complex, intriguing. If you enjoyed Detroit the video game on PS4, you'll enjoy this show; all their material was stolen from this show in my observation, and this show has much more things going on in it than the video game.

The premise is amazing. the acting is great. i hope this show continues. i love the concept of setting it in modern day. the originally marketing for this show was stellar and offputting.