SEASON: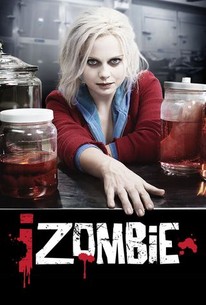 Rate And Review
Tv Season Info
In season two, with Liv's secret out, she faced new and even more powerful enemies, and old enemies in surprising new forms. And with the zombies of Seattle mysteriously disappearing, Liv and Blaine reluctantly found themselves on the same side. Unlikely alliances were struck, relationships challenged, and the line between good and evil blurred for both zombies and the fully living.
News & Interviews for iZombie: Season 2
Audience Reviews for iZombie: Season 2
Better than season 1. A satisfying watch

With some strong new villains and a some great performances season two is just as fun as the original.

Still a great show! I'm really invested in the characters - even the bad ones!

Nice show!! Fun and refreshing. Rose McIver is great.

A fantastic season that perfectly balances comedy with gripping drama, iZombie's second season is its all-time best.

Still love it. IZombie continues to gives stupendous acting and a very interesting story that keeps my interest the whole time. A+.

Not too predictable, had me and my sister binge-watching through it in a week ish? Liv's relationship turns and twists don't have you annoyed as can be common for similar shows.

Its been a long time since I've been in love with a tv series. This show is so entertaining.. It combines comedy, suspense, Love, and action. Even better, they successfully executed the element of surprise. I did not expect it to get real, and it got really real on the last season.. Definitely a must watch.

IZombie is a good entertaining show, it is clever and funny, it's everything about the cast. It could have been less predictable.