Marvel's Jessica Jones: Season 1
(2015)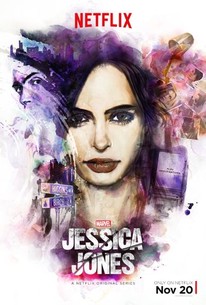 TOMATOMETER
AUDIENCE SCORE
Critic Consensus: Jessica Jones builds a multifaceted drama around its engaging antihero, delivering what might be Marvel's strongest TV franchise to date.
Marvel's Jessica Jones: Season 1 Videos
Marvel's Jessica Jones: Season 1 Photos
Tv Season Info
In Season 1 of this series based on the Marvel Comics character, former superhero Jessica Jones (Krysten Ritter) opens her own detective agency after her superhero career comes to an end. Initially hired to investigate the disappearance of an NYU student, Jones' investigation takes a dramatic turn when a mysterious figure named Kilgrave (David Tennant) resurfaces, bringing Jones' past into light and putting her directly in harm's way.
News & Interviews for Marvel's Jessica Jones: Season 1
Audience Reviews for Marvel's Jessica Jones: Season 1
½
Upheld by its structured narrative and dynamic blend of drama, action and suspense, Jessica Jones introduces another satisfying series of super-heroism. The first season's range in characters and direction only adds up to Marvel's continued success in both its TV franchises and overall adaptations. 4.5/5
½
A fantastic first season that is just attached enough to the larger Marvel Universe (in particular Daredevil) to be endearing, but not so much so that is weighed down by its forebears. Also features one of the studios best offerings villain-wise to date.
Marvel, you've done it again. Back in April when Marvel released their first Netflix series based in the MCU, Davedevil, I was not thrilled about the idea. "Really?" I asked, "A television show based on the repetitive formulaic movies?" But I eventually gave in to my girlfriend's bothering and watched the pilot. Then the next episode. And the episode after that. We quickly finished Daredevil begging for more, to my complete surprise. Marvel had nailed a REAL superhero show: one with a strong cast, character development, and TV-MA content! After fan-boying through Daredevil, I became increasingly interested in the MCU's new endeavors with Netflix. When I learned that Jessica Jones, whom I had no knowledge of whatsoever, was to be the next installment, I eagerly awaited for the November release date, keeping up with casting news and any footage available. After watching the first few episodes, all I can do is repeat myself: Marvel, you've done it again. Let's start with the cast. Our titular antihero is portrayed by Krysten Ritter. This is an example of a home-run casting choice. Ritter absolutely embodies the character of Jessica Jones, from her broken emotional states to her surprising empathy. There are so many layers that Ritter has to subtly portray, but she does a fantastic job. The supporting cast is very strong as well. Rachel Taylor plays Jessica's best friend, Trish, who is the true meaning of a best friend. Without giving anything away, at the beginning of the series, Trish and Jessica aren't exactly on good terms, but viewers can still tell from Taylor's character that she cares deeply for her friend through good times and bad, and that speaks volumes for the type of person Jessica really is. Jessica also meets a fellow super-dude in Luke Cage, portrayed by the buff Mike Colter. This show does a great job of setting up Cage's story for their next Netflix spinoff, and Colter does a great job of playing another introverted hero with demons in his closet. The rest of the cast rounds out the show well. Of course, what would a superhero show be without a super villain? David Tennant lends his acting chops as the formidable Kilgrave, a man mysteriously linked to Jessica's past and out for revenge. Now, if you're a fan of TV, you KNEW that this show was going to be a home run as soon as they announced Tennant as the first season's big baddy. If you didn't, well, you sure do now. David Tennant, subtly used in the first few episodes, is THE DEVIL. As soon as you learn about him and his powers, you realize that the stakes are going to be very high throughout the series for Jessica and company. Tennant does a phenomenal job as the layered antagonist, and I can't wait to finish this review so that I can go back and watch him some more!!! What good would a well-cast show be without strong plot? Jessica Jones feels like it belongs in the 1930's, in a good way. Our protagonist is out for redemption, making a living as a private investigator, when she comes across a familiar-sounding case that throws everything into question. Between the action sequences, Ritter's narratives, and the plot progression, this show feels like a detective drama more than a superhero show. It's also refreshing to watch Jessica Jones and how different she is to Daredevil. With Matt Murdock, viewers got to see a blind lawyer/ninja go toe-to-toe with formidable foes and try to save his city. Jessica Jones, on the other hand, is trying to save her soul and right her wrongs while getting into drunken brawls at the bar. What really helps the action and drama is the subtle sprinkles of humor, especially from Jessica's upstairs neighbor, Ruben (another strong supporting cast member). The show is shot very well by Manuel Billeter. His use of purple with some of the shots really enhances the tone and themes of the show. Sean Callery, best known for being the brains behind the music for 24, uses his score to heighten the suspense and mystery. All in all, I am blown away by this show. The story, the character development and depth, the themes, and strong performances from Ritter and Tennant make for an entertaining and thought-provoking experience. Marvel has proven to me that they can still make quality titles despite the increasingly boring and repetitive movie universe. I really, REALLY hope to see this quality of TV from Marvel continue. Being free from PG-13 limitations surely helped them to develop such great material. Let's just hope they keep it up. 5/5
Discussion Forum
Discuss Marvel's Jessica Jones on our TV talk forum!