Madam Secretary: Season 5
(2018 - 2019)
SEASON: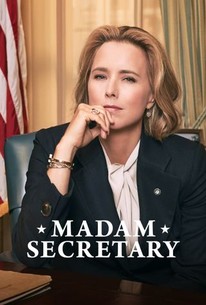 Rate And Review
Madam Secretary: Season 5 Photos
Tv Season Info
In the fifth season of this drama series, Elizabeth (Téa Leoni) and President Dalton (Keith Carradine) must face a new and dangerous threat: violent nationalists that have just attacked the White House. Plus, Elizabeth is attempting to run for president, but soon discovers the tool that the campaign can take on her and her family. Meanwhile, Henry (Tim Daly) is working at the White House as an ethics advisor, which results with him constantly disagreeing with Elizabeth. Also, Alison's (Kathrine Herzer) interest in politics keeps increasing, while Jason (Evan Roe) is actively preoccupied with his college applications.
News & Interviews for Madam Secretary: Season 5
All Critics (3) | Top Critics (1) | Fresh (3) | Rotten (0)
While an Emmy may not be forthcoming, Clinton acquits herself well in this fifth-season launch of a hit that wants -- and occasionally has -- some of that ol' West Wing mojo.
Cameos from Colin Powell, Madeleine Albright and Hillary Clinton -- and a terrific guest appearance by Linda Lavin...get the fifth season of the political drama off to a strong start.
What a way to kick things off. As if having not one, not two, but three former Secretaries of State on Madam Secretary Season 5 Episode 1 wasn't enough, the cast and writers delivered a hell of a story.
Audience Reviews for Madam Secretary: Season 5
This season went full anti-Trump and pro Hillary. It was so pro Hillary that they actually had Hillary on the show. Seasons 1-4 were very entertaining. This season is a political propaganda brainwashing disaster gone awry. The Hollyweird liberals need to get over the fact that Hillary lost and Trump won..

Great show. More would watch if it was not on so late.

5 seasons and still my favorite!

Easy watching. Keeps current with today's issues. Reminds me of West Wing

HAM HANDED, RIDICULOUS EPISODE. three FORMER sEC sTATES AND ALL THEY CAN SUGGEST IS PLATITUDES. pathetic AND FAR BELOW THEIR STANDARDS.

The writing just gets better. Could have done with Clinton taking about uniting, but still impressive.

I can't believe that the writers would stoop so low to have Hillary on their show. I normally watch you show but I deleted this episode and will cancel the recording if this is the path that you are taking.

Very interesting show, current foreign affairs analyzed well