Mercy Street: Season 1
(2016)
SEASON: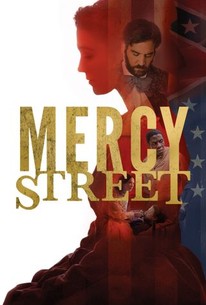 Rate And Review
Mercy Street: Season 1 Photos
Tv Season Info
Season 1 of the Civil War medical drama opens with Mary Phinney (Mary Elizabeth Winstead), a widowed nurse from New England, arriving at a hospital in Union-occupied Alexandria, Va., that's been set up in a luxury hotel owned by the Green family. Although a Union operation, it cares for soldiers on both sides of the conflict—though doctors Jed Foster (Josh Radnor) and Byron Hale (Norbert Leo Butz) disagree on just how much care the Southerners should receive. Among the first things Mary does: cover up an emergency surgery performed by Samuel (McKinley Belcher III), a free black laborer who's skilled at medicine. At the same time, the Green's daughter Emma (Hannah James) braves the patient wards in a furtive search for news about her fiancé Frank (Jack Falahee), a Confederate soldier, and, by the second episode, is volunteering to serve as a nurse. Frank does turn up, eventually, but not as a patient: First, he poses as a dental assistant in order to steal plans from Union soldiers; and, later, he aims to help a wounded prisoner (and Emma's sister's beau) escape and rejoin his outfit. Other storylines find Mary helping Jed wean himself off of morphine; Samuel falling for a contraband slave; the medical inspector visiting; the Green family patriarch James (Gary Cole) facing imprisonment for refusing to sign an oath of allegiance to the Union; and Frank plotting to assassinate President Lincoln during a visit to the hospital by the commander-in-chief.
News & Interviews for Mercy Street: Season 1
Audience Reviews for Mercy Street: Season 1
Honestly, it started allow but the drama really picked up in the last few episodes. Nicely written characters.

Please please please do another season!!! Such an intelligently done show, but also so engaging. I love the characters and the story - great acting.

love this show! Great Cast, great production value

In authentic and historical inaccuracies. Example an officer brags about his affluence including being trained as a physician at Princeton. Princeton University was The College of New Jersey until it was renamed Princeton in 1896. The College of New Jersey was a theological school and did not offer degrees in the sciences until long after the civil war. It was one of a handful of colleges in civil war era and not particularly attended by the affluent.

A wonderful show with great show with good acting.

Love it. It's PBS at its usual best.

Much more even-handed than most entertainment set in that period. The cast is very compelling and the writing is excellent. The costumes are understated, but highly appropriate.

My wife and I loved Mercy Stree! Does a great job of of blending the human interest of a dramatic hospital drama with the tensions of the Civil War and its underlying moral issue of slavery. Bring it back with more episodes, PBS!

This is an incredibly well-done series. Authenticity is first rate, and the acting is spot-on!

It's historical, the actors play interesting characters, in short it is an entertaining episode. They do not resort to gruesome murders or soft porn to create a plot. So extra credit for that.