Mr. Monk Goes to a Rock Concert
EPISODE: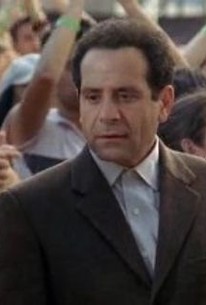 Episode Info
When Captain Stottlemeyer's son Jared (John Kyle Hansen) skips school to attend a rock concert, Stottlemeyer (Ted Levine) goes to look for the boy amongst thousands of screaming fans, accompanied by Monk (Tony Shalhoub) and Natalie (Traylor Howard). Not unexpectedly, Monk comes face to face with another mysterious death: this time the victim is a roadie named Stork (Terry Fradet), who seems to have O.D.'d on some bad drugs. But another roadie, Kendra (Tamara Feldman), suspects otherwise, and persuades Monk to investigate--and sure enough, Stork was murdered, and the motive turns out to be a song called "Peggy's Gone to Memphis." This time, it's a harmless-looking beach ball which supplies the vital clue.
Mr. Monk Goes to a Rock Concert Photos
Discussion Forum
Discuss Monk on our TV talk forum!