Orphan Black: Season 2
(2014)
SEASON: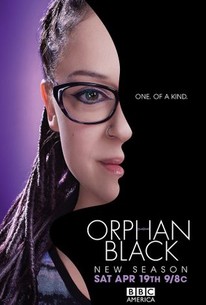 Rate And Review
Orphan Black: Season 2 Photos
Tv Season Info
Orphan Black is a dramatic conspiracy thriller about a grifter, Sarah, who discovers she's a clone that's being monitored as part of some mysterious scientific experiment.
News & Interviews for Orphan Black: Season 2
Audience Reviews for Orphan Black: Season 2
Maslany's performance carries the show: fresh and entertaining. The plot, however, begins to unravel into murky directions.

A great show, too bad that it got cancelled...

Season 2 was a muddled mess of narrative dead-ends, illogical character decisions, and repetitive plotting, to the point of boring. Orphan Black really jumped the shark this season. (But don't worry, it gets good again about mid-season 3)

This show was AMAZING!!!!!!!!!!!!!!!!!!!!!!!!

BBC's most popular program is back with more new material a lot stuff was discovered last season; Sarah found out she had several clones, Cosami and Alison, her sister Helena was feral and violent, she met her birth mother only to lose her again, her daughter and foster mother disappeared, and she met the head of the company DYAD Industries, Rachel Duncan trying to get her to sign her life over to them the police from Beth's life before her death almost found out everything but were stonewalled This season introduces newer elements: Dr. Leeki whom has taken Cosami under his wing at the company but did something terrible during the many clones that were created The Duncans are also revealed being part of Project Lida It looked like Helena was beaten but she survived somehow, Kira was then kidnapped and Alison decided to go back to suburban life A new group called the Prometheans make their way into this season Helena is then taken in by a secular society called Cold River in which they take something very valuable taking nature vs science into their own hands, Alison can't deal with the guilt of her neighbors death, and a new sickness is discovered by Cosami affecting another clone Another clone named Toni arrives shaking things up even more the finale is okay and not as good as Season 1 but the world is expanding and more mysteries have yet to be unraveled what is Topside? What's Project Castor? how many other kinds of clones exist besides Sara and her sisters? is her daughter finally safe? we're all capable of things we don't know once danger sets foot, what is natural and unnatural, is it our call to determine what kind of people should be born into this world?, does our body/our choice still exist even in the name of science? I'm happy to say 'Orphan Black' still has me hooked

I love British TV Even More Now...... I wish I could clone every season

still as good!, but getting a bit darker, more deadly and heavy than the previous one

Season 2 of Orphan Black fills the cracks of Season 1, and continues to play to its strengths and nothing else. Tatiana Maslany continues her bulletproof performance, and somehow distinguishes between the clones as if they are different people entirely.

Amazing TVShow and amazing Tatiana!

Interesting but not entirely compelling. A woman, Sarah Manning, spots her doppelganger on a station platform. The double then commits suicide by jumping in front of a train. Sensing an opportunity, Manning takes on the deceased woman's identity. However, she soon discovers that the doppelganger is not just a once-off and the more she investigates this strange occurrence, the more dangerous it gets... The series covers a very interesting subject - human cloning - and started out very intriguingly. However, you often feel that the series is padded with unnecessary sub-plots to draw out the suspense. (There are, however, entertaining sub-plots too - anything involving Alison was always good for a laugh). The main plot itself feels quite random at times too. In the end you feel you have to endure the padding and the random detours in order to make some progress. Season 2 initially seemed like an improvement: tighter, more focused plot, and more intriguing. However, after a while it degenerates into randomness too. More importantly, Season 2 seemed to revel in introducing new characters for the sake of new characters, and this gets quite tiresome quite quickly. On the plus side, the performance of Tatiana Maslany, as Manning and at least eight other characters, is excellent. As each clone has a different personality, mannerisms and sometimes even accent, she has to inhabit 7+ characters, many of them at the same time. She does this extremely well. Her portrayal of Alison is particularly good, and funny. However, after a point the producers of the series start to introduce new characters for her, just for the sake of new characters and to go "Look how versatile she is!". This is irritating and smacks of a lack of original ideas. The supporting cast are a bit hit-and-miss. Jordan Gavaris is very good as Felix, as is Kevin Hanchard as Art Bell. On the flipside, Michael Mando is atrocious as Vic. The character was loathsome enough, Mando then made him irritating with a very hammy, unconvincing performance. I made it to Episode 8 of Season 2 before giving up.