The Truth and Nothing But
EPISODE: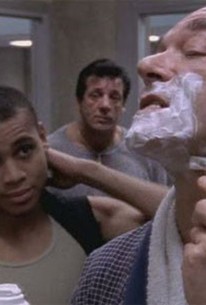 Episode Info
Season three of Oz opens with the news that the name of the prison has been changed from Oswald Penitentiary to Oswald Correctional Facility. This is appropriate, according to narrator Hill (Harold Perrineau), because in Oz, "Nobody's penitent. Nobody's sorry." In addition, thanks to the machinations of the governor, the prison's health maintenance system has been privatized to save money. Dr. Frederick Garvey (Milo O'Shea) arrives on the scene to supervise the cost cutting. He deprives Alvarez (Kirk Acevedo) of antidepressants, raising the ire of Dr. Nathan (Lauren Velez). Alvarez also tells Father Mukada (B.D. Wong), in confidence, that the guards have not been feeding him. A new prisoner, Coyle (rapper Treach) arrives in Em City, and immediately bonds with Wangler (J.D. Williams), but Nappa (Mark Margolis) isn't ready to trust the new man. Adebisi (Adewale Akinnouye-Agbaje) apologizes to McManus (Terry Kinney) for his past behavior, claims he's done with drugs, and gets released from the psych ward. Warden Glynn (Ernie Hudson) reluctantly hires a new hack, Clayton Hughes (Seth Gilliam), the son of a guard who was killed in the prison years ago. McManus suspects that Metzger (Bill Fagerbakke) is in cahoots with the Nazis, but he can't get anyone to testify against him. Keller (Christopher Meloni) is released from the hole, and apologizes to Beecher (Lee Tergesen), who demands that Keller confess to attacking him, and testify against Metzger and Schillinger (J.K. Simmons). Metzger tries to intercede, leading to a bloody showdown. This episode was directed by Nick Gomez, who also directed the first episode of season two.
The Truth and Nothing But Photos
Discussion Forum
Discuss Oz on our TV talk forum!