A Town Without Pity
EPISODE: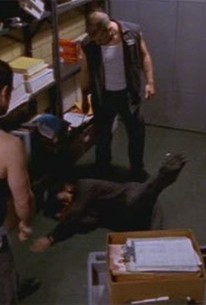 Episode Info
O'Reily (Dean Winters) gets into it with Schillinger (J.K. Simmons) when the Aryan badmouths the departed Dr. Nathan. O'Reily's comforted by Howell (Kristin Rohde), who grabs him and drags him into the bathroom for some quick oral sex. He uses his sexual relationship with Howell to get her to take care of a problem for him -- namely Stanislovsky (Philip Casnoff). Moses Deyell's (Erik King) death row antagonism toward the racist Mark Miles (Michael Quill) gets more intense. Keller (Christopher Meloni) tells Zabitz (David Johansen) that he's going to kill him for lying to Beecher (Lee Tergesen) about the kidnapping. When Zabitz asks Schillinger (J.K. Simmons) for protection, and threatens to expose him, Schillinger tells Robson (R.E. Rodgers) to off Zabitz. It all proves to be too much for Zabitz. Beecher's anger gets the better of him when he hears that Hank Schillinger (Andrew Barchilon) has been released on a technicality. Beecher pays Pancamo (Chuck Zito) to have Hank killed, but after Beecher meets with his young daughter, he changes his mind. Rebadow (George Morfogen) apologizes to Busmalis (Tom Mardirosian) for trying to kill him, just before being rushed to the hospital with a brain tumor. Adebisi (Adewale Akinnouye-Agbaje) still doesn't trust Mobay (Lance Reddick). Because he's being watched, Mobay arranges to sell drugs to another undercover cop. Hill (Harold Perrineau Jr.) confronts Mobay about murdering Goergen. Arif (Granville Adams) has another run-in with Supreme Allah (Lord Jamar), and this time he turns to Said (Eamonn Walker) for help. More white prisoners, including Pancamo and Morales (David Zayas), are transferred out of Em City by Querns (Reg E. Cathey). Adebisi thinks he's created a sex and drug paradise, but forces are aligning to bring him down. Devlin's (Zeljko Ivanek) gubernatorial campaign is interrupted by a gun-wielding Clayton Hughes (Seth Gilliam).
A Town Without Pity Photos
Discussion Forum
Discuss Oz on our TV talk forum!