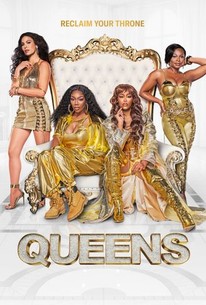 Where to watch
Buy
Buy
Buy
Rate And Review
Audience Reviews for Queens: Season 1
Y'all need to stop playing and bring this show back!!!!!

Great to see real talent. It was a refreshing look at the life of a female rapper.

I'm loving how this show shows female unity. It also shows real life things that goes on in the industry. I also love seeing Brandy and Eve in a tv show again. The music in this show is so good. I wish this show much success

If you remember watching Moesha or Eve you're going to love this.

I'm a musician born and raised I'm the hood and lived a successful career so far. And I can say this....this show has a lot it can teach people and the actors are spot on in their role. I definitely recommend this show to those who grew up like me loving old school rap and growing up in the hood. Especially women...yawl would love this show. I hope there's more to come. Peace ✌💜

Writing is terrible, acting is horrendous and the fact that anyone would give this a 5-star rating is beyond me…..

Anyone who grew up with Eve and Brandy and had late 90's/2000s hiphop blasting from our rides and scored our house parties, will find this show to be just the right amount of nostalgia and pride in being grown now. With current pop culture coming full circle it's great watching a show that ties the 2 generations together. Love seeing these real ladies of hip hop still looking amazing. I will be disappointed if this doesn't make it to season 2, but I just don't think ABC was the right fit. I guess we will see.

I love this show more with ever episode. Eve and Brandi and Naturi and Nadine and Pepi ------ BRILLIANT!!!! Such smart dialogue --- Gosh I hope it is on for many seasons ----

This show has tremendous potential to be great, however the writing is so on the nose in every scene. The writers need to work on being a bit more subtle and learn how to better handle exposition/backstory. Audiences are smart, we watch a lot of television, you don't need to spell everything out for us. I promise, we can read between the lines. The actors can only do so much with what they're given. I find myself cringing more than one should watching a tv show. This show could also use someone funny/more memorable who has true comedic chops and timing. The musical scenes really give this show it's pop and has me tuning in every week. More Brandy please!

I'm just an average Karen who doesn't know very much. But honestly this is the best show on television. Timing, creativity, innovation, Geez It's just unbelievable. I love these ladies!
See Details