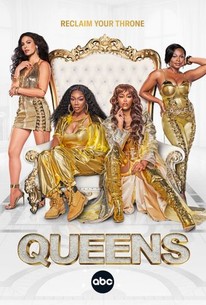 Rate And Review
Audience Reviews for Queens: Season 1
This show has tremendous potential to be great, however the writing is so on the nose in every scene. The writers need to work on being a bit more subtle and learn how to better handle exposition/backstory. Audiences are smart, we watch a lot of television, you don't need to spell everything out for us. I promise, we can read between the lines. The actors can only do so much with what they're given. I find myself cringing more than one should watching a tv show. This show could also use someone funny/more memorable who has true comedic chops and timing. The musical scenes really give this show it's pop and has me tuning in every week. More Brandy please!

I'm just an average Karen who doesn't know very much. But honestly this is the best show on television. Timing, creativity, innovation, Geez It's just unbelievable. I love these ladies!

Im absolutely loving this show.......Eve reminding everyone of the pitbull in a skirt she still got it !!!!! Also Loving Naturi and Brandy rapping showing the multi-talent but totally feel Brandy is a better rapper than singer and if they made an actual album I probably would buy it...... watching the show makes me look at at all the groups that broke up and was like oh ok I can see this happening ....not familiarwith Nadine but definitely. love all four they rock

After I saw the pilot, I thought it was excellent how much great content got squeezed in that hour. But now on the third episode, it went downhill faster than a chubby white boy trying to rap while chowing down a burger. Now it feels more like a bad rap version musical of Zoey's Extraordinary Playlist - which I'm shocked even lasted two seasons. Sure, some raps are decent, but the overacting, cringe attitudes and body language the characters are displaying is 1980's ghetto. The only thing missing is the "oh, snap!" Then having the beautiful Nadine Velazquez as pretty much the only non-black actor - clearly just to be woke, and having her act like a hood queen, is cringe. The performances in general are too phony and forced, especially the Nasty Bit*hes persona. This show pretty much went from being classy with a great concept for the pilot, to a predictable hood version rap soap opera musical with every possible cliche. The only thing left is to rap all dialogue and call this a musical. I'll bet the networks will be dropping this mess faster than a chubby white boy chowing down a burger, and end up on BET, where it belonged in the first place. It's a generous 3/10 from me, only because I enjoyed the pilot.

Watched the first episode and I am already addicted- can't wait to watch the rest of the season!

I think this show is amazing. Yes, it has cliche Scandal-esque storylines, but the cast is superb and so far so are the bars/music. Brandy really shines both as a vocalist and as a charismatic force. The other girls all shine as well. 3 of these 4 barely rapped before (Brandy has dabbled), yet they all kill it. If you love 90s hiphop/rnb this is a must see show.

Queens is a amazing Show!!!!! Full With Good Music, Good Storytelling, and Women Empowerment!!!!!!!! Highly recommend to watch Queens this Season!!!!!!!!!!!!

Pure garbage with poor acting and very weak script!

I loved it. it was so satisfying

I was disappointed with the writing and the acting. Enjoyed the collaboration but the plot needs to be better.