Supernatural: Season 2
(2006-2007)
SEASON: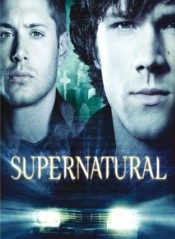 Episodes
Air date: Sep 28, 2006
Twenty-two years ago, Sam and Dean Winchester lost their mother to a mysterious and demonic supernatural force. As a result, their father, John, raised the brothers to be soldiers. He taught them about the paranormal evil that lives in the dark corners and on the back roads of America...and he taught them how to kill it. Sam, however, wanted nothing to do with this violent and dangerous life, and he left it behind, until the day Dean appeared on his doorstep with troubling news. Their father had gone missing on a "hunting trip." Sam and Dean have spent the last year cruising the highways of the United States in their 1967 Chevy Impala, searching for their lost father and encountering creatures that most people believe exist only in folklore, superstition and nightmares. Along the way, they have battled the various supernatural threats--and each other as well, for their sibling rivalries and conflicts were never far from the surface. Finally, they found their father, just as he was closing in on the Demon who claimed their mother.More
Air date: Oct 5, 2006
After listening to a message on John's, cell phone from a woman named, Sam and Dean decide to track her down. They are shocked to discover that Ellen runs a roadhouse that also serves as a gathering place for hunters like themselves. Meanwhile, at a small town carnival, a clown is persuading children to let him into their home so he can murder their parents.More
Air date: Oct 12, 2006
When Sam and Dean encounter Gordon, a fellow demon hunter who has been systematically killing vampires in a small town, Dean immediately bonds with the older man. However, after Sam meets with the lead vampire, Lenore, and discovers they are actually peaceful creatures who survive on cattle blood, he realizes that not all supernatural beings are evil and tries to convince Dean.More
Air date: Oct 19, 2006
Dean and Sam investigate the murder of a college student who has come back from the dead seeking revenge on those who mistreated her while she was alive. When confronted, the ghost savagely attacks Sam, leaving him injured. While in town, the brothers visit their mother's grave to pass along something from their father.More
Air date: Oct 26, 2006
Sam and Dean meet Andy, a slacker who has psychic powers of persuasion that he uses to gain favors from people. When Andy's friends start dying, the brothers think Andy may actually be using his powers to kill. Also, after learning that Andy's family was visited by the Demon 22 years ago, Sam wonders if Andy is part of the group of children the Demon told him about--and if that means Sam himself will eventually turn evil.More
Air date: Nov 2, 2006
Sam and Dean investigate the brutal slayings of blond women from the same apartment building and discover that the demon responsible is the ghost of the country's first serial murderer, H. H. Holmes. Meanwhile, roadhouse owner Ellen orders her daughter, Jo, not to follow the Winchesters on their hunt, but Jo defies her and ends up getting captured by the ghost and buried alive.More
Air date: Nov 9, 2006
Sam and Dean investigate the murders of a lawyer and his wife who, right before they died, claimed to have seen a ghost. Before the brothers are able to find the ghost, however, local detectives Ballard and Sheridan uncover the Winchesters' records and arrest them for a double homicide. When the ghost begins to visit Ballard, she wonders if Sam and Dean really are telling the truth--and if she might be the next to die.More
Air date: Nov 16, 2006
When two highly successful professionals die after claiming to be haunted by hellhounds, Sam and Dean investigate a local bar and discover that it sits upon a site where a deal-making demon has been making people's dreams come true in exchange for their souls. Dean summons the demon to exorcise it but is horrified after it reveals the painful truth about his father's death and tempts Dean by offering him the one thing he wants more than anything--his father.More
Air date: Dec 7, 2006
When Sam has a vision of Dean killing a young man who seems to be possessed by a demon, the two brothers head to Oregon to search for answers. They come across a town contaminated by a deadly virus that drives people to kill. Sam becomes infected and prepares for his deadly fate, but after nothing happens to Sam, Dean decides to reveal what the boys' dying father whispered to him.More
Air date: Jan 11, 2007
After Dean (Jensen Ackles) tells Sam (Jared Padalecki) what their father told him before he died, a distraught Sam sneaks off to Indiana without Dean. While there, Sam runs into Eva (guest star Katherine Isabelle), a psychic who confesses to Sam she sought him out to warn him of his impending death. Dean discovers Gordon (guest star Sterling K. Brown) is after Sam and races to find his brother in time to save him.More
Show More Episodes
Supernatural: Season 2 Trailers & Photos
Tv Season Info
Twenty-two years ago, Sam and Dean Winchester lost their mother to a mysterious and demonic supernatural force.
Genre:
Drama
Network:
CW
Premiere Date:
Sep 28, 2006
Creator:

Eric Kripke

Executive Producers:

McG

,

Peter Johnson

,

David Nutter

,

Eric Kripke

Producers:

McG

,

Eric Kripke

,

Robert Singer

,

Ben Edlund

,

Sera Gamble

,

Cyrus I. Yavneh

,

Peter Johnson

,

David Nutter
News & Interviews for Supernatural: Season 2
Friend Ratings for Supernatural: Season 2
No Friends? Inconceivable! Log in to see what your friends have to say.
Login
Audience Reviews for Supernatural: Season 2
Discussion Forum
Discuss Supernatural on our TV talk forum!