Terminator: The Sarah Connor Chronicles: Season 1
(2008)
SEASON: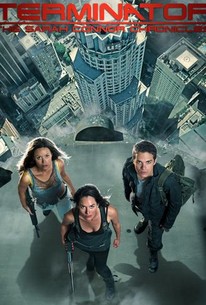 Terminator: The Sarah Connor Chronicles: Season 1 Photos
Tv Season Info
Fugitive mother Sarah Connor (Lena Headey) endeavors to protect her son, John (Thomas Dekker), who is destined to lead a resistance group against Skynet, a network of killer cyborgs and machines bent on eradicating the human race in the near future. When a cyborg named Cromartie poses as a substitute teacher to kill John at his high school, classmate Cameron (Summer Glau) intervenes and saves John by running over the terminator with a truck and uttering the franchise catchphrase, "Come with me if you want to live." Cameron, a reprogrammed teen-girl terminator dispatched by John in the future to protect his younger self, joins Sarah and John's new crusade to change the future after the two conclude their efforts to halt the formation of Skynet, as depicted in the movie "Terminator 2: Judgment Day," were ineffective. Hot on their tails are Cromartie and FBI agent James Ellison (Richard T. Jones), who's been tracking Sarah since the destruction of Cyberdyne Systems, a company once linked to Skynet. Sarah, John and Cameron evade Ellison and Cromartie by traveling from 1999 to 2007, bypassing the events played out in "Terminator 3: Rise of the Machines." Their jump forward in time damages Cromartie, who is forced to completely overhaul his human appearance, and diminishes Ellison's stature in the FBI. Sarah secures new identities for her brood, enabling John and Cameron to return to school while Sarah begins the hunt for others who may be involved in Skynet's imminent creation. Ellison and Cromartie continue to track the Connors, while Sarah's quest puts her in the path of a computer programmer, who has authored an innovative chess-playing program dubbed the Turk, and Derek Reese (Brian Austin Green), a man inextricably tied to Sarah's past and John's future.
Audience Reviews for Terminator: The Sarah Connor Chronicles: Season 1
The epic science fiction series Terminator makes the transition to the small screen with the television series Terminator: The Sarah Connor Chronicles. Set up as a direct sequel to Terminator 2: Judgment Day, Sarah Connor and her son John time travel to 2007 (with the help of a terminator) on a mission to prevent the A.I. computer network Skynet from being built. The casting is especially good; particularly the female leads Lena Headey and Summer Glau. The CGI effects however, are a bit cheesy; as the limitations of a television budget shows at times. Still, Terminator: The Sarah Connor Chronicles delivers a strong and compelling adventure in its first season.
Discussion Forum
Discuss Terminator: The Sarah Connor Chronicles on our TV talk forum!