The Frankenstein Chronicles: Season 1
(2015)
SEASON: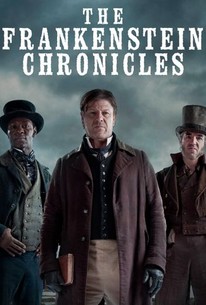 Rate And Review
Tv Season Info
What started as an undercover operation to bust drug trafficking across the River Thames turns into something more gruesome when Inspector John Marlott (Sean Bean) finds a patched-up body on the riverbank. His discovery attracts the attention of renowned surgeon Sir William Chester (Samuel West) and Her Majesty's Home Secretary Sir Robert Peel (Tom Ward), who task him to solve the case as quickly and quietly as possible so it won't derail their political agenda. As Inspector Marlott delves more deeply into the mystery of the patchwork corpse, he finds that he may have uncovered a secret best left alone. The first season of "The Frankenstein Chronicles" also stars Ed Stoppard and Vanessa Kirby as the siblings Lord Daniel and Lady Jemima Harvey, Elliot Cowan as Sir Bentley Warburton, Robbie Gee as Billy Oates, Richie Campbell as Joseph Nightingale, Steven Berkoff as William Blake, and Anna Maxwell Martin as Mary Shelley.
Audience Reviews for The Frankenstein Chronicles: Season 1
Netflix presents the limited series The Frankenstein Chronicles, a period crime drama. When a body of mix matched body parts sown together washes ashore in London a special investigator is assigned to find the culprit. Sean Bean leads the cast and delivers a fairly strong performance. And the writers do a good job at creating intrigue and suspense. Also, the sets and costumes look and feel remarkably authentic. Yet with only six episodes the series doesn't really have time to develop many of the characters or plotlines. Also, given the dark subject material, the show can get a little gritty and gruesome. The Frankenstein Chronicles shows promise, but Season 1 is rather weak (due mainly to its limited run).

Good show. Interesting take. I really enjoyed it.

AMAZING, HEART WRENCHING,CREEPY, DARK,TRAGIC AND BEAUTIFUL. If that makes any sense at all? I would highly recommend taking the time to watch this and I mean really follow it! My heart just kept breaking for the poor man....i cried. I doubt they'll be another season because he knew it was his time.

Taking a stab at modern crime dramas... the perfect way to create a modern Frankenstein! The original novel was one of the first of its kind in the science fiction genre, why not make it into something that's modern today? Really has such a similar take as to what Mary Shelley did in her time, it looks at oppression and the hot topics of abortion, class, and religion in the exact same way the original masterpiece looks at feminism and religion as well! For all those saying that it's 'antichrist' and 'too gory'.... they need to read the original book as they may well be shocked! The fact that the book is portrayed as the monster?.... Man this TV is a masterpiece.

One of the best and most interesting adaptations of Mary Shelley's infamous story in years, The Frankenstein Chronicles is a brilliant horror series. Netflix presents a chillingly atmospheric and eery period crime drama supported by a cast of incredibly talented actors. It's fascinating, suspenseful, bold, and enthralling. Looking forward to watching season 2.

Brilliantly done period horror series. The horror and suspense was elegant and understated. Fantastic cinematography and set design. The worst part was when it ended.

Brilliant propaganda. Goebbels would be proud! I realized what I was watching just after I finished season 1. Gave it half a start, because I am not interested in manipulative content, but rather in real shows. Still genius though.

Really enjoyed this show.

Brilliant..fascinating..enthralling... fabulous! Thanks again for recommendations!