The Office: Season 2
(2005-2006)
SEASON: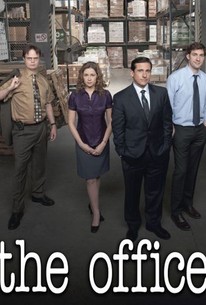 The Office: Season 2 Photos
Tv Season Info
Series 2 of the hit mockumentary opens with the hardly coveted Dundie Awards, the annual ceremony honouring Scranton employees in such esteemed categories as Hottest in the Office and Whitest Tennis Shoes. In a typical move, regional manager Michael Scott emcees the show and picks the winners---but doesn't pick up the tab. In other Michael developments, he spies on staffers' emails, mistakes an IT guy for a terrorist, burns his foot while cooking bacon bedside, and becomes a reluctant homeowner. He does manage to find some success in the dating department. He goes out with his likable real-estate agent Carol and hooks up with his recently divorced no-nonsense boss Jan Levinson. The latter affair starts as a one-night stand but leads to a slightly warped (and somewhat imagined in Michael's eyes) love triangle between the three. In other office romances, Dwight Schrute and Angela Martin start a top-secret love affair, Kelly Kapoor crushes on Ryan Howard, and Jim Halpert continues dating Katy, the "hot girl" he met in the Series 1 finale. But it's Pam Beesly whom he not-so-secretly pines for, even though she's engaged (for three years and counting) to insensitive warehouse worker Roy. Much to Jim's dismay, Roy finds a moment of drunken clarity on Michael's ill-fated booze cruise and finally sets a date for his and Pam's wedding. Pam's thrilled at first, but then she starts thinking beyond the reception desk when a Women in the Workplace seminar inspires her to attend art school. Jim wholeheartedly encourages the idea, which is quickly shot down by Roy, planting seeds of doubt in Pam's mind about whether Roy is really the right guy for her.
All Critics (3) | Top Critics (1) | Fresh (3) | Rotten (0)
The show has managed to really find its groove, and episodes like the one with the office Olympics and the Christmas party are showing how good this show has become and how much continued potential for funniness it's got.
The Office was probably the only show to ever make you think working in an office could actually be kind of fun, and no season of the NBC sitcom did that better than the second, when it properly diverged from its BBC source material.
The only thing this really lacks is the darker heart of its progenitor, offering its characters a few too many redeeming moments.
Audience Reviews for The Office: Season 2
Discussion Forum
Discuss The Office on our TV talk forum!