The Pack: Season 1
(2020)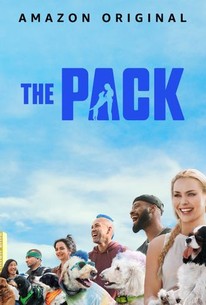 Rate And Review
The Pack: Season 1 Photos
News & Interviews for The Pack: Season 1
Audience Reviews for The Pack: Season 1
Can't believe I'm siding with the critics for once, but I enjoyed this immensely for what it is, a kind of B reality show. I think the host and pet were just ok. But watching the contestants that are normal people makes you feel like it could be you out there competing with your dog. My one pet peeve is the border collie with the type A owner. Loved them, but bruh, you put a rocket scientist in with a bunch of test subjects, at least put 2 in and make it a ball game.

As a dog owner, I loved this show so much. If I hadn't had a dog while watching it I would have cried the whole series. The tasks get harder and harder, as competitors get eliminated, which is so intriguing, I couldn't wait to see what country they were going next, what the task was gonna be and how the teams were gonna do cause ultimately it comes down to too many factors, you wouldn't expect for some to stay and for some to go. It's a great show, can't wait for season 2.

This show is absolutely fantastic. Wholesome family entertainment. The 17% is review bombing by heartless PETA people.

It sucked, stupid show was dumb and was a waste of my time

OK for a first season. Lindsey and her dog have little personality and take away from the warm and fuzzy feeling. Not enough in the show about the non-profits that were helped. Lastly, the final 3 should get something like $250k/$125k/$50K with another 50% going to their charities.

Overproduced, and formulaic. The concept is really good but if you're going to create a doggy version of the Amazing Race then figure out what makes that a great series and incorporate it into this show.

Completely over produced and, frankly, boring.