Simpson and Delilah
EPISODE: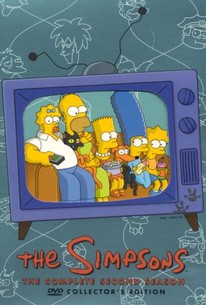 Episode Info
Homer Simpson (voice of Dan Castellaneta) has never been happy about his premature baldness, and has tried a number of products that claim to restore hair growth, with no luck. However, when a new hair growth treatment called Dimoxinil goes on the market, Homer is eager to try it -- until he discovers a supply costs 1,000 dollars. Homer's pal Lenny (voice of Harry Shearer) suggests he simply falsify an insurance form from work to pay for the formula, and before long Homer's desire for hair overpowers his scruples and he gives it a try. To Homer's ecstatic surprise, the Dimoxinil works like a charm, and he discovers a full head of hair makes a profound difference in his life -- he's more confident, more enthusiastic in bed, and when his boss Mr. Burns (also voiced by Shearer) mistakes him for "a young go-getter," he's given a big promotion. Homer soon finds he's in over his head, but with the help of his selfless assistant Karl (voice of Harvey Fierstein), Homer looks like he's on the fast track to success at the Nuclear Power Plant. However, Smithers (also voiced by Shearer), Burns' right-hand man, resents Homer's status as Mr. Burns' new favorite employee, and is soon looking for a way to move Homer out of the picture. "Simpson and Delilah" was first broadcast on October 18, 1990.
Simpson and Delilah Photos
Discussion Forum
Discuss The Simpsons on our TV talk forum!