Bart the Daredevil
EPISODE: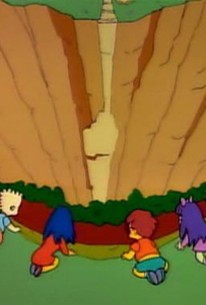 Episode Info
Timing is the watchword for the Simpson family when Homer (voice of Dan Castellaneta) and Bart (voice of Nancy Cartwright) learn that the Springfield Speedway will be staging a special thrill-show the same night as Lisa (voice of Yeardley Smith) will be performing a solo in the school band concert. The moment the concert is over, Homer and Bart rush Lisa and Marge (voice of Julie Kavner) into the car, just in time for their car to nearly be swallowed up by Truckasaurus, a robot made from several monster trucks. As part of the show, Bart watches famous daredevil Capt. Lance Murdock (voice of Castellaneta) jump his motorcycle over a tank filled with hungry sharks and man-eating lions. Impressed, Bart begins jumping his skateboard over an increasingly large number of objects, even after an injury earns him a stern warning from Dr. Hibbert (voice of Harry Shearer). Bart decides he needs to stage a truly impressive stunt, and he makes plans to leap over Springfield Gorge; when Homer finds out, he has to find a way to stop his son before he hurts himself. "Bart the Daredevil" first aired on December 6, 1990.
Bart the Daredevil Photos
Discussion Forum
Discuss The Simpsons on our TV talk forum!