Treehouse of Horror III
EPISODE: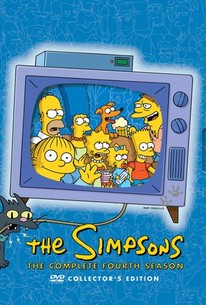 Critic Consensus: No consensus yet.
Episode Info
It's Halloween again, and the Simpson family is having a party, with everyone trying to top each other with tales of terror. In Clown Without Pity, Homer (voice of Dan Castellaneta) forgets to buy a birthday present for Bart (voice of Nancy Cartwright), and finds a talking Krusty the Clown doll at a strange little shop. Homer soon realizes, however, that he didn't get an ordinary toy; the doll threatens to kill him and chases him around the house with a knife when it isn't busy trying to convince the Malibu Stacy doll owned by Lisa (voice of Yeardley Smith) that she looks awfully warm in that cheerleader's outfit. Grampa passes along his own version of the classic monster epic King Kong -- King Homer -- in which Mr. Burns and Smithers (both voiced by Harry Shearer) set out to capture the giant ape King Homer, using aspiring starlet Marge Bouvier (voice of Julie Kavner) to lure the beast into their trap. And in Dial "Z" For Zombie, Bart learns the local library is a lot more interesting than he imagined when he finds a book of magic spells that can be used to reanimate the dead. Bart and Lisa use one of the incantations to resurrect their departed cat, Snowball I, but they make a few miscalculations, and soon Springfield is crawling with "the living impaired" who've passed on over the past two centuries. "Treehouse Of Horror III" was first aired on October 29, 1992.
Treehouse of Horror III Photos
Critic reviews for Treehouse of Horror III
ATTENTION: SOME OF THE QUOTES BELOW CONTAIN SPOILERS
... one of the single best segments ever: a Night of the Living Dead spoof.
Discussion Forum
Discuss The Simpsons on our TV talk forum!