New Kid on the Block
EPISODE: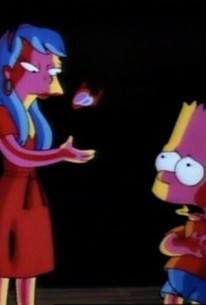 Episode Info
While young Bart Simpson (voice of Nancy Cartwright) hasn't had much use for girls in the past, he begins to change his mind about the fairer sex when he meets Laura Powers (voice of Sara Gilbert), the daughter of a divorcée who has moved into the neighborhood. Laura is the perfect girl for Bart -- she's pretty, she knows how to put bullies in their place, and she's hip to such pranks as the "Wet Willie" and the "Hertz Doughnut." However, she's also about five years older than Bart, which makes it hard for her to take him seriously as potential boyfriend material, though he makes a good impression (for a change) when she comes over to babysit. Bart is convinced he's found true love, until Laura informs him she has a boyfriend -- Jimbo Jones (voice of Pamela Hayden), one of Springfield's more obnoxious thugs-in-training. Bart isn't about to take this lying down and plots his revenge against Jimbo. Meanwhile, Homer (voice of Dan Castellaneta) takes Marge (voice of Julie Kavner) to local seafood restaurant The Frying Dutchman when he hears they have an "all you can eat" buffet; however, the restaurant's management cuts Homer off after eating most of their stock on hand, and Homer decides to take the matter to court with the help of semi-qualified attorney Lionel Hutz (voice of Phil Hartman). "New Kid on the Block" first aired on November 12, 1992.
New Kid on the Block Photos
Discussion Forum
Discuss The Simpsons on our TV talk forum!