Homer's Barbershop Quartet
EPISODE: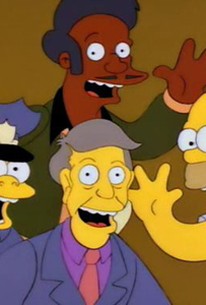 Critic Consensus: No consensus yet.
Episode Info
The Simpson family decides to sell off a few old things at a swap meet, and while looking through the merchandise Bart (voice of Nancy Cartwright) and Lisa (voice of Yeardley Smith) discover a used LP by a group called the Be Sharps, which features a vocalist who looks like Homer (voice of Dan Castellaneta). It turns out the singer really is Homer, and he tells the kids about his short-lived career in music. In 1985, barbershop quartets were enjoying a resurgence in popularity in Springfield, and Homer, Principal Skinner (voice of Harry Shearer), Apu (voice of Hank Azaria), and Chief Wiggum (also voiced by Azaria) put together a group they call the Be Sharps. After playing a show at Moe's Tavern, Nigel (also voiced by Shearer), a British talent scout, approaches the group and tells them he can make them stars if they're willing to get rid of Wiggum. Barney Gumble (also voiced by Castellaneta), who has a lovely tenor voice when he isn't drunk to the point of collapse, joins the group, and seemingly overnight, the Be Sharps are earning gold records, playing sold out shows, and winning Grammy awards. But fame takes its toll on the group, especially after Barney's conceptual artist girlfriend begins sticking her nose into the act, and the Be Sharps call it quits after their five-and-a-half weeks of stardom. "Homer's Barbershop Quartet" features guest appearances by George Harrison and David Crosby during the Grammy Awards sequence; Harrison was the second surviving Beatle to appear on The Simpsons when this episode first aired on September 30, 1993.
Homer's Barbershop Quartet Photos
Critic reviews for Homer's Barbershop Quartet
ATTENTION: SOME OF THE QUOTES BELOW CONTAIN SPOILERS
The story is fun, parodying both the Beatles and the '80s, and the jokes still hold up, even though they may not be as quotable as more popular episodes.
Discussion Forum
Discuss The Simpsons on our TV talk forum!