Homer Goes to College
EPISODE: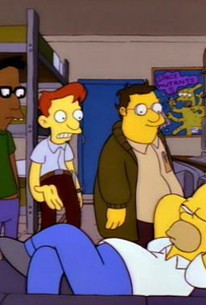 Episode Info
A team of inspectors from the Nuclear Regulatory Commission make an unannounced visit at the Springfield Nuclear Power Plant, and several employees are tested to see how they would deal with an emergency. Homer (voice of Dan Castellaneta) proves to astoundingly inept, bringing the test's phony plant to the point of a meltdown, and Homer is ordered to return to school and pass a course in Nuclear Physics before he can return to his job. Homer enrolls in Springfield University after Mr. Burns (voice of Harry Shearer) intercedes on his behalf, but true to form, Homer's notion of academia seem to be informed more clearly by bad 1980s college comedies rather than the pursuit of higher learning. With his grades going steadily downhill, Homer is introduced to three science students who will be his tutors, Doug (voice of Hank Azaria), Gary (voice of Dan Castellaneta), and Ben (voice of Harry Shearer). Homer is more interested in teaching his nerdy new friends the fine art of partying rather than doing schoolwork, and after Homer talks them into stealing the mascot of crosstown rivals Springfield A&M, Doug, Gary, and Ben are kicked out of school. "Homer Goes to College" was first aired on October 14, 1993.
Homer Goes to College Photos
Discussion Forum
Discuss The Simpsons on our TV talk forum!