Sideshow Bob Roberts
EPISODE: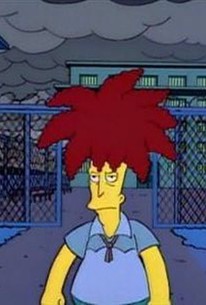 Episode Info
Semi-corrupt public official Mayor Joe Quimby (voice of Dan Castellaneta) is up for re-election, and radio talk-show host and Republican activist Birch Barlow (voice of Harry Shearer) is determined to put a more conservative candidate in office. Looking for the right man to run against Quimby, Barlow and his right-wing brain trust think they may have found their man in Sideshow Bob (voice of Kelsey Grammer), convicted felon, former children's entertainer, and nemesis of Bart Simpson (voice of Nancy Cartwright). After Barlow's radio campaign results in Sideshow Bob's early release, Bart and Lisa (voice of Yeardley Smith) help Mayor Quimby in his campaign against the charismatically evil Bob, but Quimby spoils his own campaign and Bob wins with a projected 100 percent of the vote. However, an anonymous tipster tells Bart and Lisa that something was not cricket with the election, and the kids make a shocking discovery as they examine Springfield's polling records. Sideshow Bob Roberts also features a guest voice-appearance by noted disc jockey and music archivist Dr. Demento as himself; the episode first aired on October 9, 1994.
Sideshow Bob Roberts Photos
Discussion Forum
Discuss The Simpsons on our TV talk forum!