Bart Sells His Soul
EPISODE: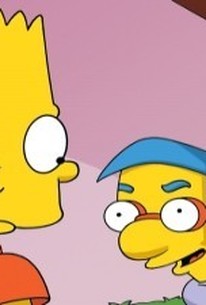 Episode Info
After Bart (voice of Nancy Cartwright) is kept after Sunday school as punishment for tricking the congregation into singing "In-A-Gadda-Da-Vida," and Milhouse (voice of Pamela Hayden) is also kept behind for squealing on his friend, the boys have a debate about the nature of the soul. Ever the skeptic, Bart offers to sell his soul to Milhouse for five bucks, and Milhouse takes him up on the offer. Before long, however, Bart gets the sinking feeling that he has made a big mistake, and he asks Milhouse for his soul back, only to discover that Milhouse has shrewdly raised the price to $50. Elsewhere, local barkeep Moe (voice of Hank Azaria) decides that running a "dank pit" isn't bringing in the business it once did, and decides to turn his tavern into a family style restaurant, Uncle Moe's Family Feedbag, which may not be a good business decision for a cranky guy with a short temper who loathes the sound of children's laughter. "Bart Sells His Soul" first aired on October 8, 1995.
Bart Sells His Soul Photos
Discussion Forum
Discuss The Simpsons on our TV talk forum!