Guy Walks into a Psychiatrist's Office
EPISODE: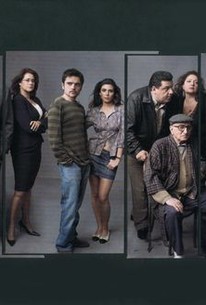 Episode Info
In the second-season premiere of this original HBO series, Mob boss Tony Soprano (James Gandolfini) adjusts to some changes in both his families in the wake of his mother's betrayal and a legal crackdown by federal law enforcement. Tony's also dealing with the sudden reappearance of his sister Janice (Aida Turturro), a free spirit going by the Hindu name "Parvati," who's really a greedy schemer in the finest Soprano tradition. Claiming she's there to care for their hospitalized mother Livia (Nancy Marchand), Janice is angling to get her mother's house (or the proceeds from its sales) when Livia dies. Tony refuses to see Livia, who's "dead" as far as he's concerned and not invited to a family barbecue. Tony's Uncle Junior (Dominic Chianese) is in jail and Tony orders a hit on Philly, one of Junior's men, because Philly's blabbing about Tony's therapy. But Tony's psychotherapist Dr. Jennifer Melfi (Lorraine Bracco), who's been reduced to hiding out and seeing patients in a motel room, refuses to treat her star patient despite his renewed panic attacks, telling him off at a diner. Nephew Christopher Moltisanti (Michael Imperioli) expands into a new business venture involving a scam stock brokerage called Webistics. Meanwhile Big Pussy (Vincent Pastore) reappears, claiming to have undergone rehab in Puerto Rico. "Guy Walks Into a Psychiatrist's Office" premiered January 16, 2000.
Guy Walks into a Psychiatrist's Office Photos
Discussion Forum
Discuss The Sopranos on our TV talk forum!