Full Leather Jacket
EPISODE: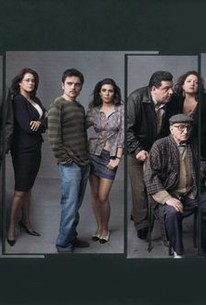 Episode Info
A violent turn of events threatens the good fortunes of the Soprano family in this episode of the cable television series. Concerned that her daughter, Meadow (Jamie-Lynn Sigler), could end up attending a college thousands of miles away, Carmela Soprano (Edie Falco) asks her neighbor, Jean Cusamano (Saundra Santiago), for a favor. It seems that Jean's twin sister, Joan (also played by Santiago), a successful lawyer, is a graduate of Georgetown University and serves in an influential alum position. Carmela asks if Joan would write a recommendation for Meadow, but Joan's answer is no. Determined and more than a little peeved, Carmela bakes a ricotta pie and shows up at Joan's office, making it clear that the recommendation is an offer Joan can't refuse. Carmela's husband, mob boss Tony Soprano (James Gandolfini), is dealing with his own headache, his lieutenant Richie Aprile (David Proval), who is bucking his order to build a wheelchair access ramp at the home of pizzeria owner Beansie (Paul Herman), whom Richie is responsible for injuring. Richie caves in after a talk with Tony's Uncle Junior (Dominic Chianese) and even offers Tony his lucky leather jacket, a relic from the 1970s that Tony promptly gives to his maid's immigrant husband, enraging Richie. Deciding to quit taking drugs and give up his dreams of a life in the movie business, Soprano family lieutenant Christopher Moltisanti (Michael Imperioli) asks his girlfriend, Adriana (Drea de Matteo), to marry him. The couple's joy is short-lived, as Christopher's two partners in crime, Matt Bevilaqua (Lillo Brancato Jr.) and Sean Gismonte (Chris Tardio), decide to move up the mob ladder by murdering Christopher, gunning him down in a diner parking lot. Sean is killed in the attack, and Matt goes on the run after Richie refuses to help him. "Full Leather Jacket" originally aired March 5, 2000.
Full Leather Jacket Photos
Discussion Forum
Discuss The Sopranos on our TV talk forum!