The Staircase: Season 1
(2005)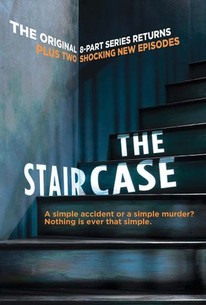 Rate And Review
The Staircase: Season 1 Photos
News & Interviews for The Staircase: Season 1
Audience Reviews for The Staircase: Season 1
*spoilers* I'm embarrassed it took me 8 episodes to comprehend that the doc is a defense of a weird man who probably murdered two women. The fact that I had to write 'probably' is the filmmakers' point that he should have been acquitted on reasonable doubt. But The Staircase fails in its quest to expose the failures of the American Justice System when it neglects to show us the totality of what the jury heard and saw. Instead, we, like the documentarians, are embedded with the defense. Here's a snapshot of the confusion I'd like to spare others: when Michael Peterson's adopted daughters provide extrajudicial character witnessing for the man who probably (again) murdered both their bio mother and the woman they called mom, I thought, Wow, this show has a cruel streak: they will feel so foolish when his crimes are revealed. But no. I was the fool for continuing to watch. I'm not sure what de Lestrade was trying to do with that footage, an ambiguity that other reviewers have touted as the primary strength of The Staircase. The defense thinks that family support is indicative of Peterson's innocence. In contrast, I thought it amounted to a determination to reject the very real and nightmarish possibility that they were raised by a murderer who took the life of their mother, twice. Sometimes people who have been conned double down. The whole series is an exercise in deflection. Instead of asking pertinent questions, such as why did Peterson and his first wife divorce? Why did he get custody of all four of their children? Why did he choose to live as a closeted man? What did his military service in Vietnam entail?, de Lestrade gives us a mix of lawyer-client chitchat and paid expert explanation of blood splatter. Peterson made his own documentary, and it's ridiculous to believe it vindicates him. (Even though I agree with the reviewer below as to the absurd bias of this show, the umbrage she takes over a Jewish-American lawyer saying he never wants to return to Germany is weird. Um, the Holocaust happened, Danielle.)

Horribly biased. I just have bad vibes from everyone in Peterson's orbit. For example, the statement about his attorney never wanting to go back to Germany...these people are gross.

interesting, good insight, quite captivating to watch. wouldn't want to be in front of a jury that can believe such a shitty evidence based case without reasonable doubt.. then again - what do you expect from country where many believe earth is flat, sun goes around earth and have orange as president..

It is not a balance documnetary. The dead person is still in the living room. A bitter sweet end.

if you like true crime, it doesn't get any better than this!

This is one of the great documentaries of our time. The amount of footage was astounding and allowed the viewer to learn new information and to sit with it and be a part of this family.

Absolutely gripping cinema, dying to be made into a drama film. And yet the greatest mystery of all still remains - what happened on that night?

A rather revealing look at a corrupt and broken legal system... whether you believe he murdered his wife or not, (and personally, I'm not sure either way!) I think it's safe to say that the authorities mishandled this case big-time. Worth a watch for sure.

I just hope that when I kill somebody to have enough money for that defense team.

The Staircase is an excellent documentary of everything wrong with our legal system. The prosecution determined that he was guilty before a true investigation took place, fabricated evidence, pushed the medical examiner to change her death determination, and luckily found to have cause multiple incomplete reports in different cases leading to the release of Mr. Peterson. It's such a sad reality that someone could be found guilty for a crime they did not commit. Shame on Durhams DA.