The Treflik Family
( - 2016)
The Treflik Family
( - 2016)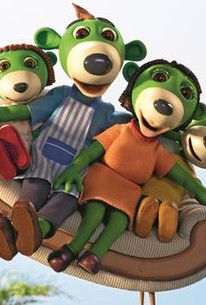 AVERAGE AUDIENCE SCORE
Critic Consensus: No consensus yet.
Series Info
The Treflik Family are a dog-like humanoid creatures consisting of Daddy, Mummy, Treflik (4 year old and Treflinka (6 year old). They have a Grandpa and Grandma who visit them sometimes. There is also Mr. Jareczek, a housekeeper who sings his own songs and plays the guitar, and there is Gondus, his grandson. The King and the Queen live in the neighbourhood, they walk in their royal clothes, crowns and they ride their royal coach, however, they also do shopping in a grocery. Robobot is another neighbour, he is a small robot -- an inventor. Their Aunt appears up and there and she is shown as a witch as she rides the broom. Daddy has an artistic soul and he is a little romantic, a little scientist, he is brave but slightly lost. Mummy is practical, she cooks great and likes animals. The little Treflik is curious and upstanding, he likes to be really naughty sometimes as he does not understand everything yet and he does not see the limits, he is both courageous and shy. Treflinka is an obedient girl, she is reasonable, responsible and very emphatic. She has got an artistic soul. She is subtle and easy to hurt, although she gets offended very often. The Little Uncle is a bit of a dwarf and a bit of a wizard. He can do magic, fly, predict future and advise, however, sometimes he has problems with simple matters (for example, telling how many colours the rainbow has). He feels lost as if he did not understand the rules of life on the earth. His appearance always means solving some problem that children are currently coping with. Only they can see the Little Uncle. He lives in a tiny box but when he comes out he grows up to the children's half height. Still, he can appear in every place and he appears the right size at once.
Discussion Forum
Discuss The Treflik Family on our TV talk forum!