Jose Chung's 'From Outer Space'
EPISODE: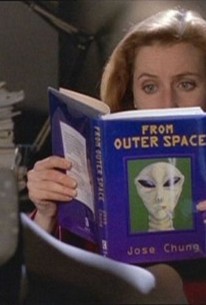 Episode Info
Charles Nelson Reilly guest stars as Jose Chung, a best-selling novelist specializing in books about paranormal phenomena. As Chung researches his latest book, he teams up with Mulder and Scully, who are looking into a reported case of alien abduction. What follows is X-Files' own version of Rashomon, with every eyewitness -- including the aliens -- providing a different account of the incident in question. First broadcast April 12, 1996, "Jose Chung's From Outer Space" was written by Darin Morgan. This light-hearted episode is a fan favorite.
Jose Chung's 'From Outer Space' Photos
Discussion Forum
Discuss The X-Files on our TV talk forum!