Tiny Pretty Things
(2020)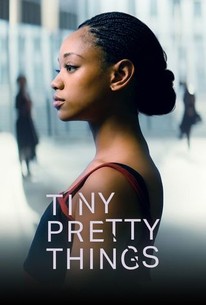 Where to watch
Subscription
Rate And Review
Tiny Pretty Things: Season 1 Photos
Audience Reviews for Tiny Pretty Things: Season 1
The concept is fun, pretty little liars meets dance academy. Execution however… I was so let down. All of the characters are so hard to like. It's like they are ride or die or trying to ruin them? The character traits are overall inconsistent. Moving in to the exploitative sex scenes. I get it, it's an edgy teen show, however, at least one sex scene per episode is a bit much and it's not just suggested scenes but practically soft porn. I felt terrible watching it the way someone does when they watch porn. These actors I felt were being exploited into these scenes that didn't push the narrative further or bring anything new. This show has never heard of a slow burn. Honestly if the actors weren't having to show their entire body every other scene I could have forgiven it but I just felt like who ever was directing or writing such explicit scenes needs some serious sex therapy.

Quite an entertaining series with very talented actors....and actresses. The dancing is phenomenal (coming from someone who can't dance to save a life). However some characters just made me wanna throw up, Ramon🤮. Remind me why a school principal is sleeping around with a student? And why do broken up couples act like they're in a relationship in the presence of their current partners? (Lennox & Whitlaw). Some things like eating disorders go unaddressed and we're left wondering whether these characters will ever get the help they deserve. I couldn't understand why some characters were beefing one minute and then laughing together the next as if nothing happened. All in all it's an interesting piece, sad they'll not be giving us a new season.

A refreshing show with amazing talent. The dancing is phenomenol and it has a great storyline. So diverse and loved the characters which is so important when watching a show they made you really care and found myself immersed in a world that otherwise I would never of thought about. Cannot wait to see the next book come to life.

I've never seen a show with more unlikeable characters or where relationships are rendered so meaningless because all the characters are playing musical chairs but with hookups other than the og Gossip Girl. But at least for Gossip Girl, you weren't bored because the characters were actually interesting, even if they were assholes.

Dark drama for the sake of shock, yet ends up flat and predictable with no substance

I have a lot of things to say about this show. Disclaimer: i did not read the book and im not going to. Spoilers ahead. The good: - the dancing - Beth's characterization The bad: - the acting is a little wanky, especially sex scenes -too much ass The frustrating: -Neaveh's characterization. No development at all. She is the supposed main character who becomes a side character so quickly. Quick to be put into relationships with no development. Pushes other characters' storylines instead of hers. Writers made her the stereotypical black girl. She visits Kasey at the hospital, despite not knowing this girl at all. Just bad writing all around -Oren- forgotten/unaddressed storylines. Gets raped/has bulimia but never addressed. No chemistry with Naeveh. -Nivil (idk his name)- french accent is a little sus -Shane- rapes Oren but the show does not see it as rape but more as a FWB - the cop- i found her annoying. The show tries to convince us that she's a good person but she is such a huge interference. The show should have made her more of an antagonist instead of someone to root for -Adults treating highschoolers like adults- adults are constantly giving students alcohol during public events. Shane gets into a relationship with an adult and everyone is ok with that. Villain ballet coach being inappropriate with students. Just make the cast college age or adults instead -small plot holes- Who put Naeveh's tiny dancer in Jun's things? What happened to the serial rapist? If there is a season 2, do better.

Loved this show! Must film 2nd season!!!!

Amazing, the drama, mystery,lust. It was a absolutely perfect combination. Excited too see more,it's easy too say it's my new fav show, it's a beautiful creation..job well done

My immediate reaction was that it was Mozart In The Jungle with young dancers, a silly plot, inappropriate music, and a poor quality of dance. Giving it a miss.

The most awful portrayal of a ballet company/school I have ever seen. The show constantly pushes that having relationships with adult predators is sexy and cool instead of disgusting. The themes Tiny Pretty Things tackles are all dark, but they aren't highlighted with much sensitivity, instead relating trauma back to ballet which isn't always the case or true. The Archer School is portrayed as godly, if the dancers do not obey the cruel, manipulative, predatory rules they will cease to have careers or even live. This is not the case at any performing arts school or company and it is infuriating for this show to pass that message onto impressionable viewers who will make judgements. Characters change their minds and motives episode to episode and drama is created just for shock value. There isn't a moment in the plot you cannot guess will happen. I watched for the dance itself which is beautiful and the actors, dancers who do their best with the shockingly bad material they have.
See Details