Tiny Pretty Things: Season 1
(2020)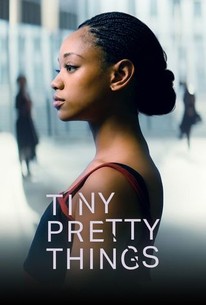 Rate And Review
Tiny Pretty Things: Season 1 Photos
News & Interviews for Tiny Pretty Things: Season 1
Audience Reviews for Tiny Pretty Things: Season 1
I have a lot of things to say about this show. Disclaimer: i did not read the book and im not going to. Spoilers ahead. The good: - the dancing - Beth's characterization The bad: - the acting is a little wanky, especially sex scenes -too much ass The frustrating: -Neaveh's characterization. No development at all. She is the supposed main character who becomes a side character so quickly. Quick to be put into relationships with no development. Pushes other characters' storylines instead of hers. Writers made her the stereotypical black girl. She visits Kasey at the hospital, despite not knowing this girl at all. Just bad writing all around -Oren- forgotten/unaddressed storylines. Gets raped/has bulimia but never addressed. No chemistry with Naeveh. -Nivil (idk his name)- french accent is a little sus -Shane- rapes Oren but the show does not see it as rape but more as a FWB - the cop- i found her annoying. The show tries to convince us that she's a good person but she is such a huge interference. The show should have made her more of an antagonist instead of someone to root for -Adults treating highschoolers like adults- adults are constantly giving students alcohol during public events. Shane gets into a relationship with an adult and everyone is ok with that. Villain ballet coach being inappropriate with students. Just make the cast college age or adults instead -small plot holes- Who put Naeveh's tiny dancer in Jun's things? What happened to the serial rapist? If there is a season 2, do better.

Loved this show! Must film 2nd season!!!!

Amazing, the drama, mystery,lust. It was a absolutely perfect combination. Excited too see more,it's easy too say it's my new fav show, it's a beautiful creation..job well done

My immediate reaction was that it was Mozart In The Jungle with young dancers, a silly plot, inappropriate music, and a poor quality of dance. Giving it a miss.

The most awful portrayal of a ballet company/school I have ever seen. The show constantly pushes that having relationships with adult predators is sexy and cool instead of disgusting. The themes Tiny Pretty Things tackles are all dark, but they aren't highlighted with much sensitivity, instead relating trauma back to ballet which isn't always the case or true. The Archer School is portrayed as godly, if the dancers do not obey the cruel, manipulative, predatory rules they will cease to have careers or even live. This is not the case at any performing arts school or company and it is infuriating for this show to pass that message onto impressionable viewers who will make judgements. Characters change their minds and motives episode to episode and drama is created just for shock value. There isn't a moment in the plot you cannot guess will happen. I watched for the dance itself which is beautiful and the actors, dancers who do their best with the shockingly bad material they have.

Terrible series. Every scene led to sex and nudity which was disturbing. The story was really confusing because of how most characters betrayed one and another and then are suddenly best friends in the next scene.

It's not to bad, it's just more about s3x than actual ballet.

I enjoyed the dancing. It was great. The writing and most of the acting with a very few exceptions, (June, Shane, Bette, Madame) were horrible. Most of the dialogue was clunky and stupid. There were too many plot twists and the "evil" people were stereotypes. But, really, I just did not care about any of the characters except for June and Shane.

It's about sex and power and unbelievable predictable. A older man that uses his power to pray on young girls and young women that use their body to get what they want. It's misogyny and sex. It has nothing to do with the depth of people, it's as shallow as can be.

I tried with this one. The only saving grace for this show is the opening montage of dance and movement. This show has ZERO likeable characters. Actually no, that's not true, Neveah's mother was the only likeable character. The plot sometimes makes no sense, or is rushed, there is little room for character development. The dialog is bad, like cheese factor over dramatic bad. You want to like these characters, but you just cannot. The show does not allow you to. There is drama over nothing, characters changing personality mid episode, and the sex, which there is plenty enough, is done in a boring sterile way. Neveah is the lead, I guess, and you wanna like her but, she is just a trope, angry black girl from the hood moving on up, with no redeemable qualities. One of the most horrible characters, Ramon, is one of the best. This show should be pushed off the building, and taken off life support. There is no need to inflict the world with another season, until it is recast, retooled, another writer, another director. This show is not Thirteen Reasons Why and should not try to be.