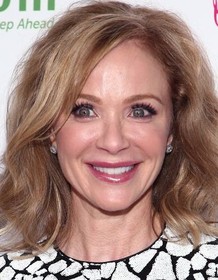 Lauren Holly
Highest Rated: 96% Spirited Away (2001)
Lowest Rated: Not Available
Birthday: Oct 28, 1963
Birthplace: Bristol, Pennsylvania, USA
A striking and intelligent leading lady, Lauren Holly found success as an actress in both television and film. Known first as the tough but sensitive Deputy Maxine Stewart on the Emmy Award-winning "Picket Fences" (CBS, 1992-96), Holly garnered critical acclaim for her refined performance in "Dragon: The Bruce Lee Story" (1993) and drew raves for her comedic prowess opposite the then new comedy giant, Jim Carrey in the less-than-sophisticated hit, "Dumb & Dumber" (1994). Their relationship off screen propelled her to heretofore undreamed of heights, with the tabloids following their every move throughout their tempestuous romance and marriage in the mid 1990s. The spotlight was so firmly fixated on the Carrey connection or what hair color Holly would debut next, that it was often forgotten that the actress was a smart and charismatic leading and supporting player. In 2006, she returned to her television roots as NCIS Director Jenny Shepard on the CBS series "NCIS" (CBS, 2003- ), putting to rest any doubts that her past onscreen success, both on the big and small screen, was a fluke.
Photos
A SMILE LIKE YOURS, Lauren Holly, Greg Kinnear, 1997, (c)Paramount
DUMB AND DUMBER, Jim Carrey, Lauren Holly, Jeff Daniels, 1994, (c) New Line
DOWN PERISCOPE, Kelsey Grammer, Lauren Holly, 1996. TM and Copyright © 20th Century Fox Film Corp. All rights reserved..
BAND OF THE HAND, Lauren Holly, Danny Quinn, 1986. ©TriStar Pictures
Covert Affairs, Lauren Holly (L), Piper Perabo (R), 'House of the Holy', Season 1, Ep. #6, 08/17/2010, ©USA
Covert Affairs, Piper Perabo (L), Lauren Holly (R), 'House of the Holy', Season 1, Ep. #6, 08/17/2010, ©USA
Covert Affairs, Lauren Holly, 'House of the Holy', Season 1, Ep. #6, 08/17/2010, ©USA
Covert Affairs, Lauren Holly, 'House of the Holy', Season 1, Ep. #6, 08/17/2010, ©USA
Motive, Lauren Holly, 05/20/2013, ©ABC
Motive, Lauren Holly, 05/20/2013, ©ABC
Motive, Lauren Holly, 05/20/2013, ©ABC
DRAGON: THE BRUCE LEE STORY, Lauren Holly, 1993, (c)Universal Pictures
Motive, from left: Shawn Roberts, Brendan Penny, Louis Ferreira, Kristin Lehman, Lauren Holly, 'Raw Deal', Season 2, Ep. #1, 05/21/2014, ©ABC
DUMB AND DUMBER, Lauren Holly, Jeff Daniels, 1994. (c) New Line
Motive, Lauren Holly (L), Alexander Calvert (C), Louis Ferreira (R), 'Angels with Dirty Faces', Season 2, Ep. #8, 07/16/2014, ©ABC
A SMILE LIKE YOURS, Lauren Holly, 1997, (c)Paramount
Motive, Louis Ferreira (L), Lauren Holly (C), Kristin Lehman (R), 'Dead End', Season 2, Ep. #5, 06/18/2014, ©ABC
DRAGON: THE BRUCE LEE STORY, (aka DRAGON LA VIDA DE BRUCE LEE), Jason Scott Lee (left), center from left: Jason Scott Lee, Lauren Holly, 1993, © Universal
DRAGON: THE BRUCE LEE STORY, (aka DRAGON LA VIDA DE BRUCE LEE), Jason Scott Lee (left), center from left: Lauren Holly, Michael Learned, 1993, © Universal
TURBULENCE, Ray Liotta, Lauren Holly, 1997
Filmography
Movies
TV
Credit

No Score Yet

85%

NCIS
NCIS Director Jenny Shepard (Character)

2005-2008

2023

No Score Yet

96%

Family Law
Joan (Character)

2021-2022

53%

49%

Tiny Pretty Things
Monique (Character)

2020

87%

73%

Lucifer
Roxie Pagliani (Guest Star)

2017

No Score Yet

83%

Motive
Dr. Betty Rogers (Character)

2013-2016

81%

74%

Alphas
Sen. Charlotte Burton (Guest Star)

2012

66%

80%

Lost Girl
Unknown (Guest Star)

2012

No Score Yet

84%

Rookie Blue
Superintendent Elaine Peck (Guest Star)

2011

No Score Yet

86%

Flashpoint
Jill Hastings (Guest Star)

2010

92%

89%

Leverage
Ms. Tobey Earnshaw (Guest Star)

2009

No Score Yet

67%

CSI: Miami
Unknown (Guest Star)

2003

No Score Yet

No Score Yet

Providence
Unknown (Guest Star)

2002

No Score Yet

96%

Becker
Unknown (Guest Star)

2001

No Score Yet

No Score Yet

Jackie, Ethel, Joan: Women of Camelot
Unknown (Character)

2001

No Score Yet

No Score Yet

Chicago Hope
Dr. Jeremy Hanlon (Character)

1999-2000

No Score Yet

No Score Yet

Fantasy Island
Unknown (Guest Star)

1999

82%

No Score Yet

Picket Fences
Officer Maxine Stewart (Character)

1992-1993

1995-1996

No Score Yet

No Score Yet

My Two Dads
Unknown (Guest Star)

1990

No Score Yet

No Score Yet

Spenser: For Hire
Unknown (Character)

1986