You might also like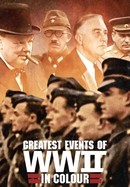 The Greatest Events of WW II in Colour
Rate And Review
Audience Reviews for Traces: Season 1
Really enjoyed this series , cannot wait for the next one .

It starts out as a mess of things you wouldn't do, and people being all up in everyone else's lives (not in a good way). It teeters on the edge of feeling like it'll be empty and baseless. Thankfully, it picks up pace, and develops the story with each reveal and new twist. The acting isn't top notch - unfortunately from two of the main females (Windsor and Fraser), which is exaggerated at times by the periods of during which the poor script is exposed. The story has elements of excitement and drama, but it doesn't deliver as much as you might expect

Well, I can almost forgive the allegation of a botched murder enquiry in 2002, as not many people will remember I was District Procurator Fiscal at Dundee at the time! But why the wild inaccuracies permeating the entire series regarding the workings of the criminal justice system? I hardly know where to start, but perhaps it should be with the fact that there was no evidence to justify placing the Macafees on petition at the time it happened. Downhill from there on. It would have been so simple to take advice and get it right. And not a singe Dundee accent from start to finish.

I thought it was a great show. Worth watching. The characters were a bit slow to get into, but the story picked up. Yeah, its not a action film okay.

I loved this. Great performances from the cast and the last few episodes are very gripping. An easy watch during lockdown.

I read the reviews and I am glad I read them after I finished the show. I loved it, British television is a favorite of mine and Traces fits the bill. There was murder, love interests, a really nasty bad guy, and a forensic team of all women. In a nutshell, those that were good were very, very good. Those that were not, well, you get the drift. I hope there is a session 2, but matching this plot will be difficult!

The plot, the acting, the writing, the score, the direction and even the cinematography of this ramshackle 'drama' is dreadful. It was so bad that it became bizarrely comical. The first episode makes a modicum of sense but it goes downhill thereafter. The actors in this sorry tale can all act but sadly the script is so poor that they don't have a chance. It's like Something that might have been a 6th form project. Sadly once I've invested time watching something I find it really hard to give it up. There was an ending which I suppose is something but I'd really suggest not starting. If you do you'll regret it!!

I thought it was riveting. The forensic side of it was very interesting, and I really liked the twist. It wasn't like anything I'd ever seen before and I found it very enjoyable. Watched it all in one go.

Amazing acting, totally convincing story, top class group of actors. Unusual setting and laser-like focus on the major contribution of forensics in matters of crime. The young lead was outstanding and it was thrilling and compelling.

As per national newspapers it was slow to pick up.. but what a climax! Brilliantly gripping and a welcome suspenseful distraction from Covid! Loved it! Brilliant cast!