True Detective : Season 1
(2014)
SEASON: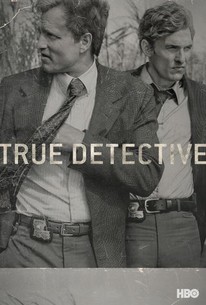 TOMATOMETER
AUDIENCE SCORE
Critic Consensus: In True Detective, performances by Woody Harrelsen and Matthew McConaughey reel the viewer in, while the style, vision and direction make it hard to turn away.
True Detective : Season 1 Videos
True Detective : Season 1 Photos
Tv Season Info
New Orleans native and novelist Nic Pizzolatto ("Galveston") wrote and created this crime drama that focuses on a pair of homicide detectives in Louisiana and a trail of murder, mayhem and mystery that spans 17 years. Featuring the music of T Bone Burnett and directed by Cary Fukunaga, the series opens in 1995 as good ol' boy Martin Hart (Woody Harrelson) and his brooding, Texas-born partner, Rust Cohle (Matthew McConaughey), are called to the scene of a gruesome, ritualistic killing of a young woman, who was posed by a tree, adorned with deer antlers on her head and accompanied by strange symbols. Fast-forward to 2012, Hart and Cohle are grilled by another pair of detectives (Tory Kittles, Michael Potts) who are investigating a case that bears striking similarities to the one before. In between is a glimpse of 2002, when Hart and Cohle struggled to deal with their inner demons in separate but equally destructive ways. With Michelle Monaghan, Kevin Dunn, Lili Simmons and Shea Whigham.
News & Interviews for True Detective : Season 1
Audience Reviews for True Detective : Season 1
½
So, this was quite an awesome ride wasn't it? Not much because of the whodunnit case, but more thanks to the deeply flawed but interesting characters we're given. We see this case consume them, how they can be complete assholes and not fix their flaws, on how they refuse many chances they're given to correct past wrong doings and this is all so very human, isn't it? That's what makes True Detective rather special. They're no heroes, they can be complete assholes but we understand them and their drive. The mistery is appropriate and it's riddled with details to turn you into a true detective as well, which I guess was the intention all along, with an appropriate doomsday feel mistery cult surrounding the case, that doesn't have huge twists but is much more grounded in reality. True, many things are left unfinnished by the end but if the conclusion was too neat and tidy, it would've contradicted the tone of the show.
This is one of the greatest series' I have seen in a long a time. This season is made completely with love and have some brilliant writing by Nic Pizzolatto and brilliant directing by Cary Fukunaga. This is such a dark show, but it really helps when it comes to pulling in the viewer, because in many of the scenes, you really can't look away from the screen. The performances from Matthew McConaughey and Woody Harrelson are un-describable. They play so well off each other and off the other characters in the show, which consists mostly of Michelle Monaghan, Michael Potts and Tory Kittles. If anyone doesn't like this season, you have either not seen it or just don't like McConaughey or Harrelson and if that's the case; what's wrong with you?!
One of the best crime dramas I've ever seen on TV. Skillfully made in all aspects. Although the first three episodes are very slow, and brutally depressing, I was hooked from the fourth episode and on when the pace picks up very quickly.
Discussion Forum
Discuss True Detective on our TV talk forum!