SEASON: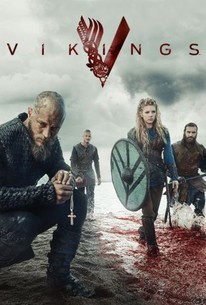 Tv Season Info
In Season 2 of "Vikings," Ragnar Lothbrok (Travis Fimmel) forges an uneasy truce between King Horik of Denmark (Donal Logue) and Jarl Borg of Gotäland (Thorbjørn Harr). However, his victory comes with a price: his family falling apart. Nonetheless, Ragnar pushes on with his plans to raid and conquer England with Horik's aid. In England, they encounter the wily King Ecbert of Wessex (Linus Roache), who thwarts the Viking invasion at every turn. Back at home in Kattegat, trouble brews and leads to betrayal and destruction. Ragnar is forced to put his plans of conquest on hold to restore order to his home. What he achieves is more than what he came home for. "Vikings" also stars Katheryn Winnick as Lagertha, Alyssa Sutherland as Princess Aslaug, Clive Standen as Rollo, George Blagden as Athelstan, Jessalyn Gilsig as Siggy, Gustaf Skarsgård as Floki, and Alexander Ludwig as Bjorn Ironside.
News & Interviews for Vikings: Season 2
Audience Reviews for Vikings: Season 2
It's slightly more polished than Season 1 but most of it's problems remain, like the poor dialogues, the overexposition and characters that lack any decent evolution or motivations. Take Siggy for example, exacly what makes her so hungry for power? Is there anything behind that desire? We're left clueless as she shifts alliances here and there and that doesn't help any TV show. Lagertha still manages to be the most interesting thing going on the series thanks to the good work of Katheryn Winnick and to those who lust for some nice epic battles, you got plenty here.
As with many shows, it is in its sophomore season that Vikings finds sure footing, and although the first episode of season 2 feels like it probably should have instead been the first season's finale, the show overall takes form as its own animal.
Discussion Forum
Discuss Vikings on our TV talk forum!