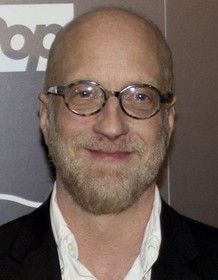 Chris Elliott
Highest Rated: 94% Groundhog Day (1993)
Lowest Rated: 14% Scary Movie 2 (2001)
Birthday: May 31, 1960
Birthplace: New York, New York, USA
Renowned for playing a wide range of oddballs, comedic actor and writer Chris Elliott cut his teeth on "Late Night with David Letterman" (NBC, 1982-1993) before creating cult classics "Get a Life" (Fox, 1990-92) and "Cabin Boy" (1994) and bagging memorable supporting roles in "Groundhog Day" (1993), "There's Something About Mary" (1998) and "Schitt's Creek" (CBC, 2015-19). Born in New York City, NY in 1955, Chris Elliott began his career as a production assistant on "Late Night with David Letterman" (NBC, 1982-1993), later joining the talk show's writing team and originating several recurring characters including the Conspiracy Guy, Panicky Guy and Guy Under the Seats. After landing his first credited acting role in John Sayles drama "Lianna" (1983), Elliott showed up in sci-fi spoof "Hyperspace" (1984) and coming-of-age "My Man Adam" (1985), worked with Michael Mann on "Manhunter" (1986), Francis Ford Coppola on "New York Stories" (1989) and James Cameron on "The Abyss" (1989) and played a 30-year-old paperboy in "Get a Life" (Fox, 1990-92), a self-penned quirky family sitcom which also featured his real-life father, actor and comedian Bob Elliott of Bob and Ray fame. After playing news cameraman Larry in "Groundhog Day" (1993) and filmmaker A. White in N.W.A satire "CB4" (1993), Elliott enjoyed a one-season stint on "Saturday Night Live" (NBC, 1975-) and divided critics with "Cabin Boy" (1994), a Tim Burton-produced fantasy comedy in which he starred as an obnoxious manchild. Elliott then appeared in Disney remake "The Barefoot Executive" (1995), played Bing Crosby's illegitimate son in tabloid news satire "The Naked Truth" (ABC, 1995-98) and twice worked with the Farrelly Brothers, firstly showing up as The Gambler in "Kingpin" (1996) and then as shoe fetishist stalker Dom in "There's Something About Mary" (1998). After lending his voice to the titular white-collar worker in "Dilbert" (UPN, 1999-2000), Elliott graced family comedies "Snow Day" (2000), "The Nutty Professor II: The Klumps" (2000) and "Osmosis Jones" (2001), appeared in the second and fourth chapters of the "Scary Movie" franchise and added the aptly-titled "Cursed" (NBC, 2000-01) to his list of short-lived sitcoms. Following a ten-episode spell as Amy's nerdy brother Peter in "Everybody Loves Raymond" (CBS, 1996-2005), Elliott appeared in low-budget comedies "I'll Believe You" (2006) and "Speed-Dating" (2010), festive drama "Thomas Kinkade's Christmas Cottage" (2008) and spoof "Dance Flick" (2009), took the leading role of U.S. Marshal Chris Monsanto in action parody series "Eagleheart" (Adult Swim, 2011-14) and was cast as Lily's estranged dad in "How I Met Your Mother" (CBS, 2005-2014). Elliott then bagged his longest recurring role in "Schitt's Creek" (CBC Television, 2015-19), going on to play inept mayor Roland for all six seasons of the small-town sleeper hit. During this period, Elliott also graced feature-length comedies "Better Off Single" (2016), "Frat Star" (2017) and "How to Get Girls" (2017), guested on "Graves" (Epix, 2016-17), "The Last Man on Earth" (Fox, 2015-18) and "Fresh Off the Boat" (ABC, 2015-) and appeared alongside daughters Abby and Bridey and wife Paula in "Clara's Ghost" (2017), an oddball supernatural comedy about a haunted dysfunctional family.
Photos
Chris Elliott
SCARY MOVIE 2, Andy Richter, Natasha Lyonne, Anna Faris, Chris Elliott, Marlon Wayans, Shawn Wayans, Kathleen Robertson, 2001, (c) Dimension Films
CLARA'S GHOST, CHRIS ELLIOTT, 2018. © ORION CLASSICS
GROUNDHOG DAY, Bill Murray, Chris Elliott, 1993. (c) Columbia
CABIN BOY, Chris Elliott, Andy Richter, 1994
SNOW DAY, Josh Peck, chris Elliott, 2000
CABIN BOY, Melora Walters, Chris Elliott, 1994
GROUNDHOG DAY, Bill Murray, Andie MacDowell, Chris Elliott, 1993, ©Columbia Pictures
THERE'S SOMETHING ABOUT MARY, Ben Stiller, Lee Evans, Chris Elliott, Brett Favre, Cameron Diaz, W. Earl Brown, 1998, TM and Copyright © 20th Century Fox Film Corp. All rights reserved.
The Birthday Boys, Mike Hanford (L), Chris Elliott (R), 'The U.S. Healthcare System', Season 2, Ep. #8, 12/05/2014, ©IFC
Law & Order: Special Victims Unit, Chris Elliott, 'Lunacy', Season 10, Ep. #4, 10/21/2008, ©NBC
BETTER OFF SINGLE, Chris Elliott, 2016. © Gravitas Ventures
Jimmy Kimmel Live, Chris Elliott (L), Jimmy Kimmel (R), 'Episode 151', Season 11, Ep. #152, 11/11/2013, ©ABC
Jimmy Kimmel Live, Chris Elliott, 'Episode 151', Season 11, Ep. #152, 11/11/2013, ©ABC
Jimmy Kimmel Live, Jimmy Kimmel (L), Chris Elliott (R), 'Episode 151', Season 11, Ep. #152, 11/11/2013, ©ABC
Jimmy Kimmel Live, Jimmy Kimmel (L), Chris Elliott (R), 'Episode 151', Season 11, Ep. #152, 11/11/2013, ©ABC
Jimmy Kimmel Live, Chris Elliott, 01/26/2003, ©ABC
Jimmy Kimmel Live, Jimmy Kimmel (L), Chris Elliott (R), 'Episode 151', Season 11, Ep. #152, 11/11/2013, ©ABC
Jimmy Kimmel Live, Chris Elliott, 01/26/2003, ©ABC
Jimmy Kimmel Live, Chris Elliott, 01/26/2003, ©ABC