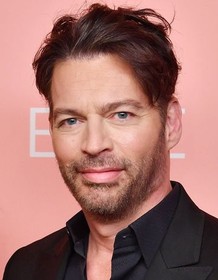 Harry Connick Jr.
Highest Rated: 100% Annie Live! (2021)
Lowest Rated: 21% Basic (2003)
Birthday: Sep 11, 1967
Birthplace: New Orleans, Louisiana, USA
Harry Connick Jr. was a musician and actor who quietly became an American institution in and of himself throughout his four decade-long career, starting as a child prodigy, before becoming a regular face in film, TV, and theater, while selling 28 million albums worldwide as a classic crooner. Born Joseph Harry Fowler Connick Jr. on September 11, 1967 in New Orleans, LA, Connick was the scion of two legal bigwigs in the big easy: his mother, Anita Frances Livingston, started as a lawyer, then a judge, before serving as a Louisiana Supreme Court justice, while his father, Joseph Harry Fowler Connick Sr., served as the district attorney of Orleans Parish from 1973 until 2003. Connick began playing piano at age three, was playing publicly at age five, and was recording with local New Orleans jazz musicians at age ten. Sadly, when Connick was 13, his mother passed away from ovarian cancer. Connick channeled his grief through practicing his craft, taking lessons at the New Orleans Center for Creative Arts with instructors such as Ellis Marsalis Jr. and James Booker. After high school, he decided to move to New York City, where he gave recitals at Loyola University, and studied at Hunter College and the Manhattan School of Music, all while living at the 92nd Street YMHA. While at MSM, he met Dr. George Butler, an executive with Columbia Records, who convinced Connick to sign to the label. Connick's self-titled debut, "Harry Connick Jr." (1987), a collection of instrumental standards was released in 1987. Connick began building a reputation in the jazz community with extended stands at New York's most prestigious venues. For his next album, "20" (1988), he incorporated vocals for the first time. This drew the attention of director Rob Reiner, who asked Connick to provide the soundtrack for his new film, the defining romantic comedy "When Harry Met Sally " (1989). The soundtrack, which featured Connick crooning such standards as "It Had to Be You," "Let's Call the Whole Thing Off," and "Don't Get Around Much Anymore," sold two million copies in the U.S. alone, and earned Connick his first Grammy for Best Jazz Male Vocal Performance. The following year, Connick made his acting debut in the WWII drama "Memphis Belle" (1990), while his next big band standards album "We Are In Love" (1990), also went double platinum, and earned him another Grammy for Best Jazz Male Vocal. Connick was nominated for an Oscar for "Promise Me You'll Remember," his song from the "Godfather Part III" (1990) soundtrack, and released his first album of original compositions, "Blue Light, Red Light" (1991), which went platinum. After enjoying a supporting role in Jodie Foster's "Little Man Tate" (1991), and releasing a successful piano standards album, "25" (1992), Connick released his first holiday album, "Where My Heart Finds Christmas" (1993), which remains his best-selling album to this day. Connick then decided to branch out: his next two albums, "She" (1994) and "Star Turtle" (1996) were hard left turns into New Orleans-style funk. They did not sell as well as his previous efforts, and many fans were perplexed. He found more success in films, however, playing a serial killer in the crime thriller "Copycat" (1995), and the doomed wingman to Will Smith in the sci-fi blockbuster "Independence Day" (1996). His next album, "To See You" (1997), returned to Connick's regular formula with a collection of piano-driven love ballads accompanied by a symphony orchestra. He followed this up with his first leading role, alongside Sandra Bullock, in the hit romantic comedy "Hope Floats" (1998). Connick then returned to big band music with his next album, "Come By Me" (1999), and embarked on a world tour. After earning a Tony nomination for his music and lyrics for Susan Stroman's Broadway musical "Thou Shalt Not" (2001) and narrating the family film "My Dog Skip" (2000), in 2002 Connick took on one of his most famous roles, recurring as Leo Markus on the smash hit sitcom "Will & Grace" (NBC, 1998-2006, 2017-19), a role he would play on and off until 2006. Connick's music career remained on a roll as well: his second holiday album, "Harry for the Holidays" (2003), and "Only You" (2004), a collection of 1950s and 1960s ballads, were some of his biggest sellers ever. After branching out in William Friedkin's indie horror hit "Bug" (2006), he starred in a Broadway revival of "The Pajama Game" (2006). His next big role was in the family hit "Dolphin Tale" (2011) and its sequel, "Dolphin Tale 2" (2014), followed by a stint as an afternoon talk show host with "Harry" (Syndicated 2016-18).
Photos
HARRY CONNICK JR., 1993
Harry Connick Jr. at arrivals for Us Weekly''s Most Stylish New Yorkers 2017 Party, The Jane Hotel Ballroom, New York, NY September 12, 2017. Photo By: Jason Mendez/Everett Collection
Harry Connick Jr at arrivals for AMERICAN IDOL Farewell Season Finalist Party, London Hotel, West Hollywood, CA February 25, 2016. Photo By: Priscilla Grant/Everett Collection
Harry Connick Jr at arrivals for AMERICAN IDOL Farewell Season Finalist Party, London Hotel, West Hollywood, CA February 25, 2016. Photo By: Priscilla Grant/Everett Collection
Harry Connick Jr, Austin Stowell at arrivals for DOLPHIN TALE Premiere, Village Theatre in Westwood, Los Angeles, CA September 17, 2011. Photo By: Dee Cercone/Everett Collection
American Idol, Harry Connick Jr., 06/11/2002, ©FOX
American Idol, Jennifer Lopez (L), Harry Connick Jr. (R), 06/11/2002, ©FOX
American Idol, Keith Urban (L), Jennifer Lopez (C), Harry Connick Jr. (R), '15 Girls Perform', Season 13, Ep. #11, 02/18/2014, ©FOX
COPYCAT, Harry Connick Jr. (left), 1995, (c) Warner Brothers
American Idol, Jennifer Lopez (L), Harry Connick Jr. (R), '15 Girls Perform', Season 13, Ep. #11, 02/18/2014, ©FOX
American Idol, Harry Connick Jr., 'Season 13', ©FOX
American Idol, Harry Connick Jr. (L), Joe Earley (R), Season 13, 1/15/2014, ©FOX
American Idol, Harry Connick Jr., Season 13, 1/15/2014, ©FOX
American Idol, Jennifer Lopez (L), Harry Connick Jr. (R), '15 Girls Perform', Season 13, Ep. #11, 02/18/2014, ©FOX
American Idol, Harry Connick Jr., Season 12, 1/16/2013, ©FOX
American Idol, Harry Connick Jr., 'Finalists Compete', Season 12, Ep. #32, 05/01/2013, ©FOX
American Idol, Jennifer Lopez (L), Harry Connick Jr. (R), 06/11/2002, ©FOX
American Idol, Jennifer Lopez, Harry Connick Jr., Season 13, 1/15/2014, ©FOX
American Idol, Jennifer Lopez, Harry Connick Jr., Keith Urban, Season 13, 1/15/2014, ©FOX
The View, Harry Connick Jr., 08/11/1997, ©ABC