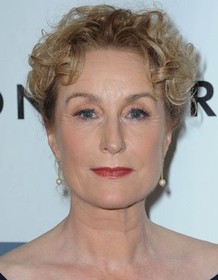 Lisa Banes
Highest Rated: 88% Gone Girl (2014)
Lowest Rated: 7% Dragonfly (2002)
Birthday: Jul 9, 1955
Birthplace: Chagrin Falls, Ohio, USA
Born in Chagrin Falls, OH in 1955, Lisa Banes' professional acting career got off to an auspicious start in the 1980 Roundabout Theatre Company production of "Look Back in Anger" by John Osborne. The production was roundly applauded, and eventually brought to the big screen that same year, filmed by Lindsay Anderson and David Hugh Jones over the course of three days of performances. Once started, she worked constantly, on stage and screen, mainly in supporting roles. She appeared as the ill-fated matriarch of the Berry clan in the adaptation of John Irving's bestseller "The Hotel New Hampshire" (1984), and in two summer blockbusters in 1988, "Young Guns," and "Cocktail." Banes landed her first series regular role with "The Trials of Rosie O'Neill" (CBS, 1990-1992). The show created by Barry Rosenzweig for Sharon Gless (the two were married in 1991) as her return to television after the hit series "Cagney & Lacey" (CBS, 1982-88). Banes was a series regular on the series "Son of the Beach" (FX, 2000-02), a spoof of "Baywatch" (NBC, 1989; syndication, 1991-1999), playing Mayor Anita Massengil. She had multi-episode arcs on "Six Feet Under" (HBO, 2001-2005) and "Royal Pains" (USA, 2009-). She portrayed the mother of Ben Affleck's missing wife, Amy, in "Gone Girl" (2014) and appeared in "The World's Strongest Man" (2015), which premiered at Sundance in 2015.
Photos
HOTEL NEW HAMPSHIRE, Wilford Brimley, Jennifer Dundas, Beau Bridges, Rob Lowe, Seth Green, Lisa Banes, Jodie Foster, Paul McCrane, 1984
Royal Pains, Lisa Banes (L), Paulo Costanzo (C), Brooke D'Orsay (R), 'Run, Hank, Run', Season 3, Ep. #8, 08/17/2011, ©USA
PUMPKIN, Lisa Banes, Christina Ricci, 2002 (c) United Artists. .
THE HOTEL NEW HAMPSHIRE, Rob Lowe, Beau Bridges, Lisa Banes, 1984. ©Orion Pictures Corp
GONE GIRL, from left: Ben Affleck, Patrick Fugit, David Clennon, Lisa Banes, Kim Dickens, 2014. ph: Merrick Morton/TM & copyright ©20th Century Fox Film Corp. All rights reserved
HOTEL NEW HAMPSHIRE, Jennifer Dundas, Lisa Banes, Beau Bridges, Seth Green, 1984. ©Orion Pictures Corp
NCIS, Lisa Banes, 09/23/2003, ©CBS
HOTEL NEW HAMPSHIRE, Wallace Shawn, Beau Bridges, Lisa Banes, Jennifer Dundas, Rob Lowe, Jodie Foster, Paul McCrane, Seth Green, 1984
THE HOTEL NEW HAMPSHIRE, Wilford Brimley, Jennifer Dundas, Beau Bridges, Rob Lowe, Seth Green, Lisa Banes, Jodie Foster, Paul McCrane, 1984, (c) Orion