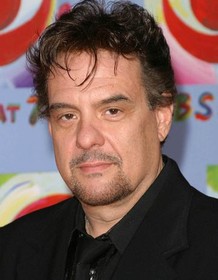 Robert Pastorelli
Highest Rated: 87% Dances With Wolves (1990)
Lowest Rated: Not Available
Birthday: Jun 21, 1954
Birthplace: New Brunswick, New Jersey, USA
Tough but soft-hearted, this imposing supporting player gives off the same "dese, dem and dose" aura as the earlier William Bendix and Sheldon Leonard. Pastorelli was heading for a career as a truck driver or a boxer when a serious car accident made him re-think his goals and enter acting. He started onstage in the 1970s, playing off-Broadway in "Death of a Salesman," "Bus Stop," "The Rainmaker," "One Flew Over the Cuckoo's Nest" and others before heading west to act on TV.
Photos
A SIMPLE WISH, Robert Pastorelli, 1997, (c)Universal
STRIKING DISTANCE, Robert Pastorelli, Bruce Willis, 1993, (c)Columbia Pictures
MICHAEL, John Travolta, Robert Pastorelli, Andie MacDowell, William Hurt, 1996, (c)New Line Cinema
MICHAEL, Robert Pastorelli, 1996, (c)New Line Cinema
ERASER, Robert Pastorelli, 1996, (c)Warner Bros.
Filmography
Movies
TV
Credit

20%

No Score Yet

Hack
Unknown (Guest Star)

2003

No Score Yet

No Score Yet

Touched by an Angel
Unknown (Guest Star)

2002

60%

No Score Yet

Cracker
Gerry "Fitz" Fitzgerald (Character)

1997-1999

57%

No Score Yet

Double Rush
Unknown (Character)

1995

No Score Yet

86%

Beauty and the Beast
Vick Ramos (Guest Star)

1988

No Score Yet

78%

MacGyver
Unknown (Guest Star)

1987

71%

81%

Miami Vice
Vespa (Guest Star)

1987

No Score Yet

No Score Yet

Last Precinct
Unknown (Guest Star)

1986

No Score Yet

No Score Yet

Mary
Mr. Yummy (Guest Star)

1985-1986

No Score Yet

No Score Yet

Newhart
Unknown (Guest Star)

1983

1985

No Score Yet

89%

Knight Rider
Unknown (Guest Star)

1983

No Score Yet

No Score Yet

Barney Miller
Edward Guthrie (Guest Star)

1982

No Score Yet

No Score Yet

My Sister Sam
Unknown (Guest Star)